A county that spans a river, lakes, and part of the Atlantic, Kerry offers its visitors a diverse range of things to do and places to see.
From challenging mountain hikes to legendary monastic settlements, abandoned structures, and a place that's hailed as the most beautiful on earth – you're about to truly make the most of your stay as well as introduce you to another side of Ireland's rich history.
The county is also popular for its Ring of Kerry road trip route. So here are the best and fun things to do in Kerry, Ireland.
11 Things To Do in Kerry, Ireland
1.Gallarus Oratory
Ireland Travel Guides contains affiliate links all throughout the site. If you choose to purchase a product or book services through our affiliate links, this earns us a commission at no extra cost to you. For our complete disclosure, click here
Believed to have been built between the 6th and 9th centuries, Gallarus Oratory is still in remarkably good condition.
One of the unique things to see in Kerry, this crude stone edifice was built out of cutting blocks made of local sandstone. This 17-foot tall oratory is the best preserved early church of its kind in Ireland.
The simple, single-room structure, has a rounded triangular shape, a doorway on one end and a small window built into the other end.
The oratory boasts of a surprisingly sophisticated construction, with its masterful use of a Neolithic building technique known as "corbelling."
Despite it being known to be a church or a religious meeting site of some sort, the true purpose of Gallarus Oratory is still unknown.
Since there are nearby Celtic burial sites some researchers believe that it had some funerary significance.
Whatever the original purpose, a local legend now says that if a person climbs through the small window at the back of the oratory their soul will be cleansed.
Opening Hours
Access to the Oratory is available all year, however, please note that the Visitor Centre closes for the winter months.
Admission Fee
A local service charge is applicable. For further details, please contact the visitor's center.
Contact Information
Address: Caherdorgan South, Dingle, Co. Kerry, V92 Y028, Ireland
Email:gallarusoratory@gmail.com
Phone:+353 (0)66 9155333
2.Carrauntoohil
A must for those who want a bit of extreme adventure, one of the more exciting activities to do in Kerry is a trek up the Carrauntoohil.
It is the highest peak of the McGillicuddy Reeks mountain range and a challenging climb for most hikers.
A part of it rises to just over 1,000 meters via the dramatic, slippery 'Devil's Ladder', which is a bit daunting but you are rewarded once you reach the summit.
At the top of Carrauntoohil, see Mt. Cahir and the Mc Gillycuddy and enjoy the fascinating glacial artistry.
At the peak, you'll also find a huge iron cross and spectacular views across the Kerry countryside.
3.Skellig Michael
Standing in the Atlantic Ocean at about 12 kilometers southwest of Valentia Island, in County Kerry are the stunning Skellig Islands – Skellig Michael and Small Skellig.
The islands are both world-famous, but Skellig Michael is more known as the site of a well-preserved monastic outpost of the Early Christian period.
The earliest reference in history to the Skellig Islands dates back to 1400 BC. Between the 6th and 8th centuries, a Christian monastery was founded on the island and was occupied until the late 12th century.
The remains of this monastery, along with most of the island itself, became part of the UNESCO World Heritage Site list in 1996.
A jagged, difficult-to-access island off the Kerry shoreline, Skellig Michael towers at 218 meters above sea level.
It's rather a steep climb up, but the sight of the remarkably well-preserved sixth-century monastic settlement and the magnificent views of the nearby islands and the Atlantic are well worth it and makes for one of the best things to do in Kerry.
These days, Skellig Michael, particularly its precarious steps, cliffs, and beehive houses at the top are known as the setting for Luke Skywalker's isolated hideaway at the end of Star Wars Episode VII: The Force Awakens and, again in Star Wars: The Last Jedi.
Admission Fee
Eco Tour around both Islands
Adults: €40 / Students €35 / Children: €30
Family: €130 (2 adults + 2 children)
Each additional child: €25
Landing Tour
€100/per person
Contact Information
Address: The Marina, Portmagee, Co. Kerry, Ireland
Email:skelligislands@gmail.com
4.Ross Castle
Built by O'Donoghue Mór in the 15th century, the Castle came into the hands of the Brownes who became the Earls of Kenmare and owned a large portion of the lands that are now part of Killarney National Park.
Steeped in history and legend, Ross Castle was the last stronghold in Munster to hold out against Cromwell. It was eventually taken by General Ludlow in 1652.
The 15th-century castle sits on the edge of Killarney's lower lake in Kerry and is open to the public during summer months.
The grounds are serene and picturesque, and a leisurely stroll takes you through the lakeside and the forest park.
It's the ideal place if you want to get away from the crowd of touristy areas and one of the nicest places to see in Kerry.
Opening Hours
1st March-5th November
Daily 09.30-17.45
The average length of visit: 1 hour
Admission Fee
Adult: €5.00
Group/Senior: €4.00
Child/Student: €3.00
Family: €13.00
Contact Information
Address: Ross Castle, Ross Road, Killarney, Co. Kerry, V93 V304
Email: rosscastle@opw.ie
Phone: +353 (64) 663 5851
5.Great Blasket Island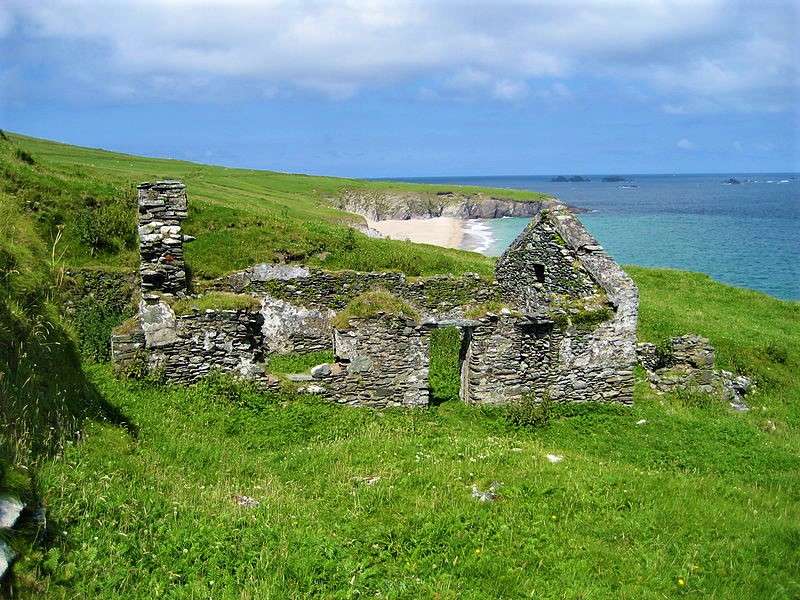 The mystical Great Blasket is the main island of a small archipelago that is part of County Kerry.
While only about three miles off the coast at its closest point, it is often shrouded in fog making it seem like an island apparition set in the Celtic Sea.
An isle steeped in Irish literary history, a trip to the Blasket Islands is among the best activities to do in Kerry.
The now uninhabited island was also home to three of the most loved and revered writers in the Irish language, Peig Sayers, Muiris Ó Súilleabháin, and Tomás Ó Criomhthain.
Contact Information
Email:info@greatblasketisland.net
Phone:086-057-2626
6.Kerry Bog Village Museum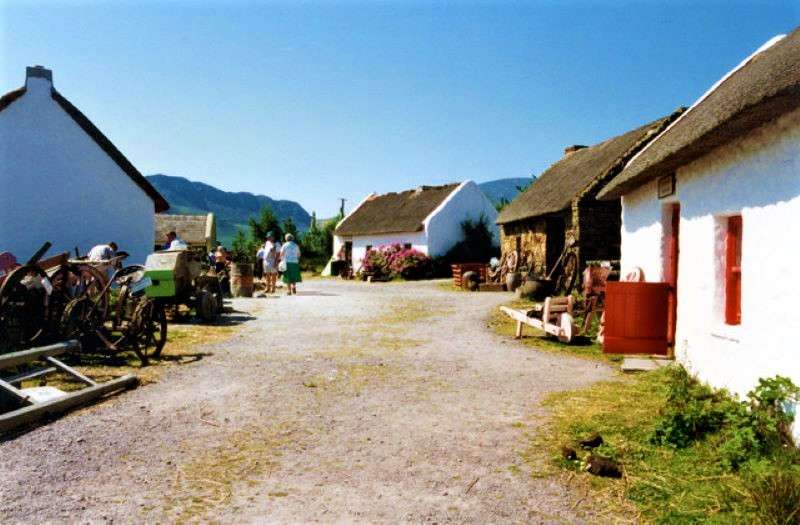 A great way to really understand any place you visit is to see its museum, and as one of the main points of interest in Kerry, the Bog Village Museum gives tourists a glimpse of life in this county centuries ago.
The place follows a simple concept and setup but does a wonderful job at orienting visitors about some of Ireland's old difficulties, and explore the way the land was once used.
A trip to the Kerry Bog Village Museum takes you through the whitewashed houses to learn about a way of life that's long since left the island.
Opening Hours
Open 7 days a week from 9:00 am – 6:00 pm
Admission Fee
Adults: €6.50
Adult (group rate): €6.00
Children: €4.50
Pensioners: €5.45
Students: €5.45
Contact Information
Address: Kerry Bog Village Museum, Ballincleave, Glenbeigh, Co. Kerry, Ireland.
Email: info@kerrybogvillage.ie
Phone: 353 (0)66 97 69184
7.Tetrapod Trackway
About 385 million years ago, a primitive vertebrate walked through the muddy coastline of Ireland's Valentia Island, dragging its lizard-like tail behind it as it climbed ashore.
The tracks it left behind were preserved and can still be seen today, a snapshot of one of the very first transitions of life from the sea to the land.
A must-visit for anyone who's ever been fascinated by super ancient history and the evolution of species, the Tetrapod Trackway consists of prehistoric footprints preserved by silt and turned to rock over the years.
If only for its fascinating history, a visit to this curious location is one of the best things to do in Kerry.
The Tetrapod Trackway on Valentia Island is one of four similar trackways currently existing in the world: There are others in Tarbet Ness, Scotland; Genoa River, NSW Australia; and Glen Isla, Victoria Australia.
Opening Hours
May – September
Closed Monday incl. Bank Holidays
Tuesday to Sunday from 10 am to 5 pm
October – April
Monday to Friday from 10 am to 5 pm
Admission Fee
Free
Contact Information
Address: No. 2 Watchhouse Cottages Knightstown Valentia Island Co. Kerry V23 RX74 Ireland
Email: info@valentiaisland.ie
Phone:+353 (0)66 947 6985
8.Listowel Castle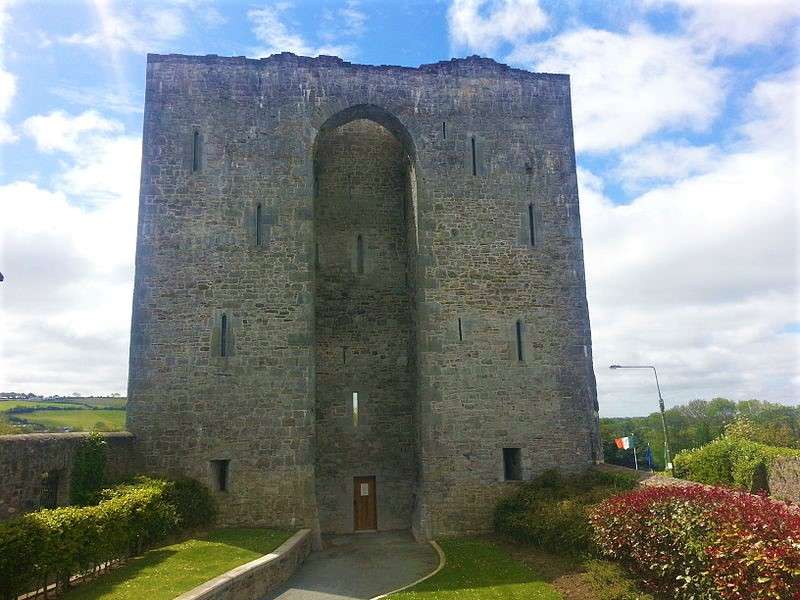 Located in Listowel town center in County Kerry, Listowel Castle stands on an elevation on a steep bank, overlooking the river Feale, above the location of a strategic ford.
It is a dramatic defensive fortification that was once the last place in the region to hold out against British rule.
The construction date of the earliest castle at Listowel dates to the 13th century but the present castle was probably built in the 15th century by the FitzMaurices.
A substantial part of the front of the castle survives, made up of two large, square towers of four stories, standing almost to the original height of 15.3 meters, connected by a wall of the same height and linked together by an arch on one side.
In recent years, Listowel Castle has been restored to its former glory, and this historic structure is one of the unique things to see in Kerry.
Tours of Listowel Castle take you around the 15th-century fortress and its quirky facilities, from the towers to the old-fashioned toilets.
Opening Hours
23rd May-18th September
Monday-Sunday
09.30 – 18.00
Last admission 45 minutes before closing
The average length of visit: 1 hour
Admission Fee
Free
Contact Information
Address:: 25 The Square, Islandmacloughry, Listowel, Co. Kerry, Ireland
Email: +353 86 385 7201
Phone: info@heritageireland.ie
9.Fahan Beehive Huts
There are beehive houses, or clochán, all over County Kerry, even at the spectacular Skellig Michael.
However, this particular group is said to be the most remarkable in the country.
These clusters of strange cone-shaped huts speckle the side of a road that winds along the Dingle Peninsula.
All worn and battered by time, these old houses stand as humble testaments to the island's medieval stonemasons.
A must visit and one of the interesting Kerry attractions, the exact age of these houses is unknown, and at one point in history, more than 400 of these intriguing abodes dotted the hillside.
Many of them have crumbled and disappeared over time, but a significant number still stands.
You can walk right up to the houses to admire the stonework that enabled these clochán to withstand centuries of wind, rain, and curious sheep.
10.Annascaul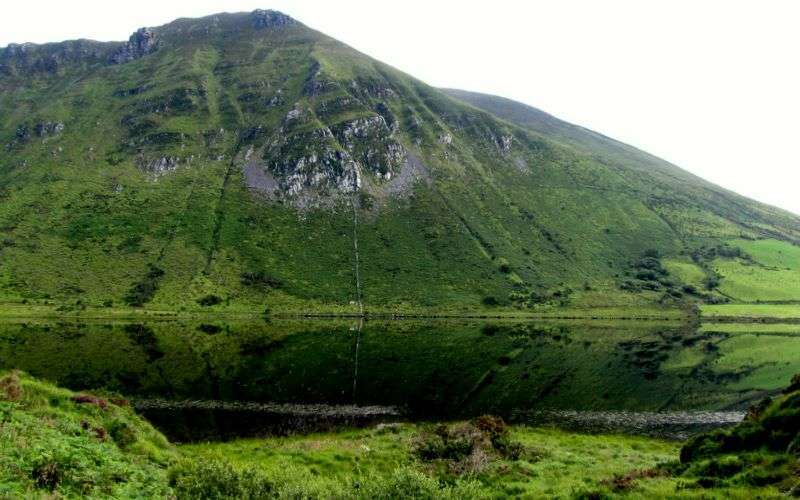 The picturesque, unspoilt rural town of Annascaul is celebrated as the birth and resting place of the famous Antarctic explorer Tom Crean, and the well-known sculptor Jerome O Connor, but it has so much more to offer.
A tiny village situated at the southern foothills of the Slieve Mish Mountains, Annascaul is one of the best places to see in Kerry.
It is a haven for hikers, with everything from mountain hikes, to lakeside trails, beach walks to strolls down peaceful fuchsia lined country lanes.
As with the rest of the Dingle Peninsula, Annascaul has an abundance of archaeological remains, standing stones, cromlechs, ringforts, and much more.
Annascaul definitely has something for everyone, with potters, herb producers, cheese farms, and the award-winning Annascaul black and white pudding made here.
The region is also steeped in folklore as evidenced by the many evocative place names such as Mam na Gearran (the mountain pass of the female hogs).
11.Dingle Peninsula

Once hailed by the National Geographic as the most beautiful place on earth, the Dingle Peninsula stretches from Tralee to Slea Head and looks west upon the famed Blasket Islands.
It was often referred to as the last parish until the New World, and home to a number of rural Ireland's most famous landmarks such as the Gallarus Castle and Oratory.
A must visit that should be on top of your things to do in Kerry, Dingle has something for every type of tourist – whether you're the kind who loves to be in the water, or long scenic drives, impressive architecture, and even instant history lessons.
When in Dingle, make sure you take the Slea Head Drive, visit one of those dual-use pubs (think hardware store or bicycle rental shop and watering hole), check out an impressive local cheese store, try the famous Murphy's Ice Cream, and of course, look for Dingle's famous non-human resident: Fungie the Dolphin who lives in the harbor.
---