There are many things to do in Killarney, Ireland.
Killarney is a lakeshore town in the County of Kerry about 4 hours away by bus from Dublin.
It is a popular tourist destination in Ireland as it is one of the scenic stops in Ring of Kerry along with the towns of Kenmare and Dingle.
Famous for its national park, beautiful lakes, imposing castles, wildlife, vibrant pubs, and gorgeous landscapes, this town is named as one of the top 10 global tourist destinations in the world.
So if you find yourself on this side of Kerry, here are the best things to do in Killarney Ireland.
10 Things To Do In Killarney, Ireland
1.Explore the Killarney National Park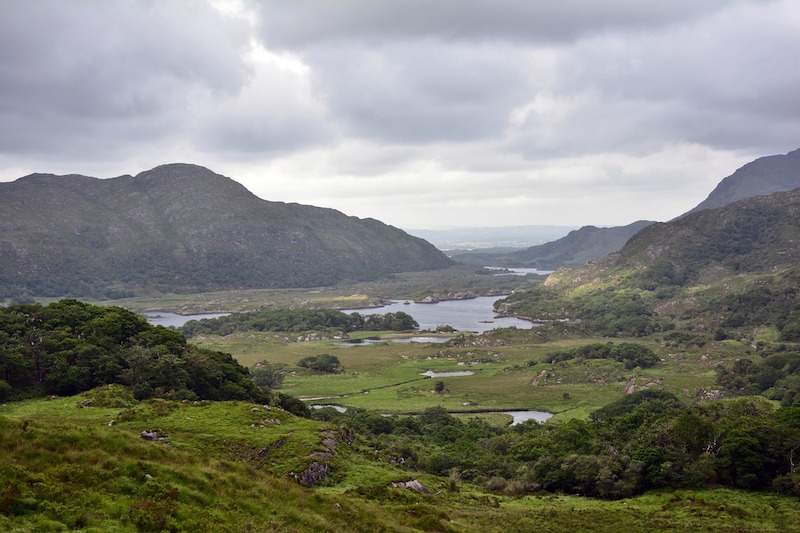 Ireland Travel Guides contains affiliate links all throughout the site. If you choose to purchase a product or book services through our affiliate links, this earns us a commission at no extra cost to you. For our complete disclosure, click here
Killarney National Park in County Kerry is one of the 6 national parks in Ireland and the first national park to be declared in 1932.
It is located near the town of Killarney and it covers 25,425 acres of protected land.
The park is of high ecological value because of the quality, diversity, and extensiveness of many of its habitats.
There are also a wide variety of species in the parks including Red and Sika deer, and few of them are rare.
The park was designated a UNESCO Biosphere Reserve in 1981.
Nature conservation is the main objective of the park protecting the various and rare species in the area and the ecosystem.
Opening Times
There is 24-hour pedestrian access to Killarney National Park throughout the year except for Killarney House and Gardens (9 am to 6 pm daily). To check the individual opening hours of each attraction, click here.
Admission Fee
The admission to Killarney National Park is free.
However, some of the attractions and activities have an admission fee. You can verify it from the visitor's center by using the contact information below.
Contact Information
Email: infokillarneyhouse@chg.gov.ie
Phone: 085-8017973
2. Climb Carrauntoohil – Ireland's Highest Mountain
Only 1 hour from the town of Killarney, Carrauntoohil is the highest mountain in Ireland standing at 1,038.6 meters.
It's a challenging climb, but it's also a very scenic trail. It is between 4-6 hour climb via Devils Ladder route.
On the way, you'll see streams, beautiful lakes, and gorgeous landscapes.
Admission Fee
There's a small admission fee which is €2 but a guided tour is highly recommended especially if it's your first time.
3.Killarney House and Gardens
Killarney House is the seat of the Earls of Kenmare and located inside the Killarney National Park.
It was built in 1872 in the same location where the Kenmare House was located.
The manor was built in a high ground affording a good view of the Lough Leane and the mountains nearby.
There are available tours open to the public in Killarney House and the gardens.
Opening Hours
Summer: daily from 8:30 am to 6:30 pm. Winter: daily from 9 am to 5 pm
Contact Information
Email: infokillarneyhouse@chg.gov.ie
Phone: +353 85 801 7973
4. Pay respect at St Mary's Cathedral, Killarney
St Mary's Cathedral is a beautiful gothic church at the center of Killarney. It is set on a beautiful backdrop of lakes and mountains.
It was built and designed in 1840 by the renowned English architect Augustus Welby Pugin.
The building of the cathedral took a long time due to several problems encountered during the construction.
It was completed and ready for mass in 1855.
Contact Information
Location: Saint Mary's Cathedral, New Street
Email: killarneycathedral@eircom.net
Phone: +353 64 6631014
5.Explore Muckross House

, Gardens and Traditional Farms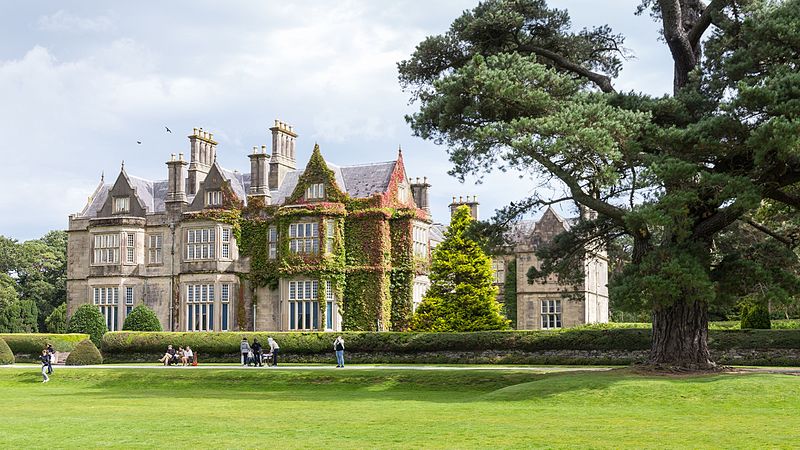 Muckross House, Gardens and Traditional Farms is one of the top visitor attractions in Killarney.
The Muckross House is a beautiful 19th-century Victorian mansion set amidst the beautiful Killarney National Park.
Aside from the mansion, you can also explore the garden and the nearby working farms.
There are 3 working farms inside the estate and one can witness the rural way of life in Ireland in the 1930s and 1940s.
Opening Hours
Summer: 9 am to 7 pm daily. Winter: 9 am to 5:30 pm daily
Admission Fee
For an adult, the admission fee for the house is €9.00 while the farm is €9.00. For the joint ticket, it is €15 per person.
For group and children admission fee, click here.
Contact Information
Location: Muckross House, Gardens & Traditional Farms, the National Park
Email: info@muckross-house.ie
Phone: +353 (0) 64 6670144
6. Take a boat or kayak to Innisfallen Island
Innisfallen is an island in Lough Leane, the largest among the three lakes in Killarney Ireland.
Innisfallen is home to the ruins of Innisfallen Abbey, one of the most impressive archaeological remains dating from the 6th to 7th century found in the Killarney National Park.
There are several boats from Ross Castle that goes to the island. The boat leaves at 9:30 am and the last trip is 5:30 pm. The boat ride only takes about 10 minutes.
Or you can either hire a rowboat or a kayak if you want to go to the island on your own.
Taking a tour to Innisfallen is one of the best day trips from Killarney.
Admission Fee
Admission to the island is free but the boat ride can cause you about €10.
7.Ross Castle, Killarney
Ross Castle is also one of the best places to visit in Killarney and one of the must-see castles in Ireland.
The castle is a 15th-century tower house built by O'Donoghues Mor, a local ruling clan on the edge of Lough Leane.
The castle has a long history of rebellions and wars and it is said to be the last castle to surrender during the Irish Confederate Wars.
Opening Hours:
9.30 am to 5:45 pm
Admission Fee
Adult: €5.00, Group/Senior: €4.00, Child/Student: €3.00 , Family: €13.00
Contact Information
Location: Ross Island, Killarney, Co. Kerry, Ireland
Email: rosscastle@opw.ie
Phone: +353 64 663 5851
8. Visit Torc Waterfall in Killarney National Park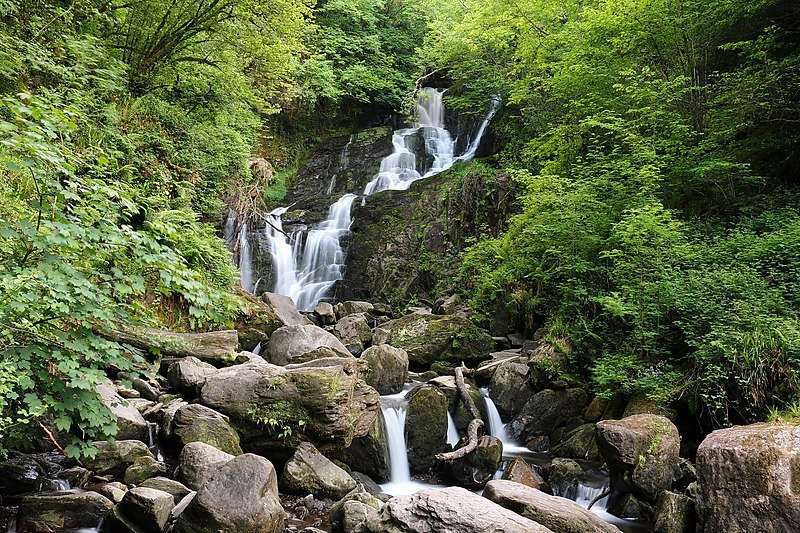 Torc Waterfall is a stunning 80 feet high waterfall nestled at the base of Torc Mountain and near N71 Killarney Kenmare road.
It is around 7km from the town center of Killarney.
It is also one of the best attractions along the Kerry Way and among the best waterfalls to visit in Ireland.
Opening Hours
Open 24 hours
Admission Fee
None
Contact Information
Location: Cloghereen Upper, Killarney, Co. Kerry, Ireland
Email: N/A
Phone: +353 85 801 7973
9.Hike at Cardiac Steps in Killarney
While you're at Torc Waterfall, why not hike the famous Cardiac Steps? It is the hilly trail along the slopes at Torc Mountain.
The hike is strenuous consisting of a steep hill for almost 1.5 hours but the view at the top is worth it.
You will be rewarded with panoramic views of the McGillycuddy Reeks, Lakes of Killarney and Killarney National Park
10. Enjoy a quiet afternoon in the Copper Mines
One of Killarney's best-kept secret is this beautiful woodland trails called Copper Mines.
It is a paved path on the southwestern shores of Ross Island.
It used to be a copper mining site but it is now simply a place that offers tranquility for those who are escaping the chaos of city life.
Planning a visit to Killarney? Here's our list of best hotels in town.
---
Like It? Pin It!
Hi, I'm Christine – a full-time traveler and career woman. Although I'm from the Philippines, my location independent career took me to over 40 countries for the past 8 years. I also lived in 3 continents – from the Caribbean, South East Asia to Africa. But despite living in several countries, my love for Ireland remains the same. A country that had been a part of my life since I was 14 because of my love for Irish music and bands. Ireland Travel Guides was born because of this passion and hopefully, in some little ways, this website will be able to help you on your next trip to Ireland.