A county that's part of the Midlands Region and is also located in the province of Leinster, Offaly largely comprises a flat landscape and is known for its extensive bog and peatlands.
Its location and topography seem literally flat and uninteresting, but Offaly has diverse and quirky attractions for visitors.
With some of them even located inside private castle grounds, repurposed bog lands, haunted places, and monastic areas – Offaly has got you covered. We compiled a list of the best things to do in Offaly to help you enjoy your stay.
11 Fun Things To Do in Offaly, Ireland
1.Birr Castle Box Hedge
Ireland Travel Guides contains affiliate links all throughout the site. If you choose to purchase a product or book services through our affiliate links, this earns us a commission at no extra cost to you. For our complete disclosure, click here
One of the more interesting places to visit in Offaly is the tallest box hedge in the world, according to the Guinness Book of World Records, which is located within the Birr Castle grounds. This box hedge was first planted 300 years ago and now towers at close to 40 feet.
One of those known attractions within an attraction, the "box" of the Birr box hedge does not refer to its shape, but to the genus Buxus, which includes dozens of species of evergreens that people have used to create living walls.
This tradition of cutting and shaping box hedges goes back to Roman times.
Today, the box hedge is part of Birr castle's formal grounds, which have been cultivated by generations of the Parsons family, who settled in the castle in 1620.
The seventh Earl of Rosse still lives there and pay close attention to the garden, which has a pretty hornbeam cloister walk.
2.Birr Castle
Birr Castle is an impressive 90-room castle situated on a 1200 acre estate in the lush Midlands of Ireland.
This Irish castle is only open to the public for a limited time during summer as it still the family home of Lord & Lady Rosse, descendants of the Parsons family, who has lived there since 1620.
Considered to be Ireland's oldest inhabited home, Birr Castle is one of the best places to visit in Offaly. The castle itself may not be always open to the public, but you're free to explore the 100-acre gardens.
Start with a famous herbaceous border at the foot of the castle looking over the Camcor river with the oldest suspension bridge in Ireland.
Then the champion trees and the formal millennium gardens, a wildflower meadow, the oak tree thought to be more than 500 years old, and the stable block that has also been converted into a science gallery and museum.
Operating Hours
Open daily from 09:00 to 18:00
Admission Fee
Adult: €9.50
Senior: €8.00 (65 years and above ID may be required)
Students: €7.50 (16 years and above, students require a valid student Id)
Children (5-16 years): €5.00 (Children 4 and under are free)
Family (2 adults and 2 children): €26.00
Group Rates Available on Request
Contact Information
Address: Birr Castle Gardens & Science Centre Rosse Row, Birr, County Offaly, R42 VO27
Phone:+353 (0)57 912 0336
Email: reception@birrcastle.com
3.Leviathan of Parsonstown
Another must-see in Offaly that's inside the Birr Castle is the Leviathan of Parsonstown, a six-foot-diameter telescope built in the 1840s by William Parsons, the third Earl of Rosse.
Whether you're an astrophysics enthusiast or not, this curious monstrosity in the Parsons estate is one of the best places to see in Offaly.
Nicknamed the Leviathan of Parsonstown, Lord Rosse's reflecting telescope was the largest in the world for over 75 years. It is a testament to Parsons' skills in engineering, optics, and astronomy.
William Parsons, the third Earl of Rosse, built this six-foot-diameter telescope and it was with this that he discovered the Whirlpool Nebula and devised a method of calculating the heat of the moon's surface, which proved to be amazingly accurate.
4.Charleville Castle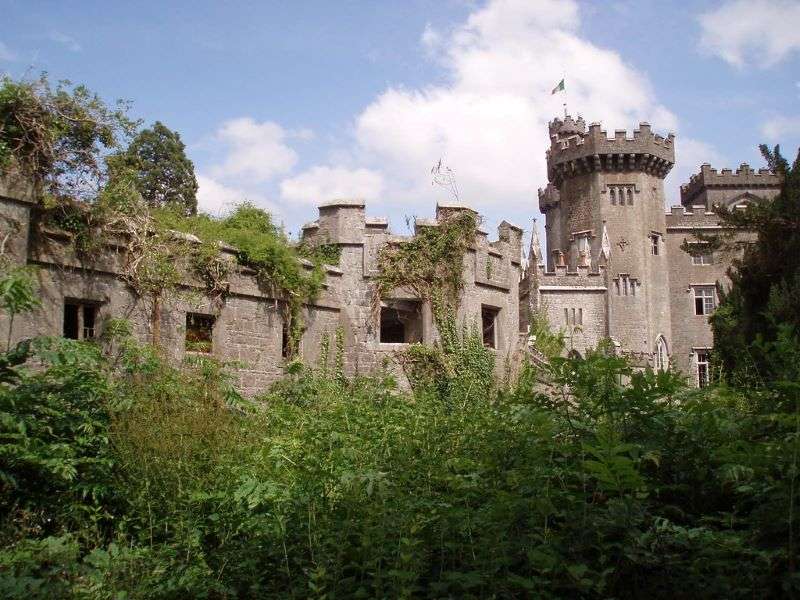 Charleville Castle is a fine 19th-century gothic-revival building set in Charleville Forest located about one mile south of Tullamore.
A must-see and one of the strangest Offaly attractions, the castle is situated in Ireland's most ancient primordial oak woods, once the haunting grounds of Ireland's druids.
It was originally called Charleville Forest Castle and was commissioned in 1798 by the first Earl of Charleville, Charles William Bury.
This imposing structure was designed by the renowned Irish architect, Francis Johnston and was completed in 1812. Charleville Castle is said to be the finest example of gothic-revival architecture in the country and also reputed to be haunted.
With myths and legends surrounding the castle's location, history, and former residents, Charleville has been featured on Most Haunted, Ghost Hunters International, and Scariest Places On Earth. Despite that reputation though visitors continue to flock to Charleville.
The picturesque castle even hosts events, such as "fright nights", auctions and plays. More recently, it was the venue for the Mór Festival, and its successor, Castlepalooza music festival.
Operating Hours
Monday-Sunday 11 am-6pm
Contact Information
Address: Charleville Castle Tullamore Co. Offaly Ireland EU.
Phone: 057 9323040
5.Clonmacnoise
Founded by St. Ciaran in 545 AD, Clonmacnoise was a center of learning for almost 1,000 years and was a virtual city until reduced to a ruin in 1552.
Situated in Shannon bridge on the River Shannon, south of Athlone, this 6th-century monastic settlement has become one of the main attractions in Offaly.
Clonmacnoise was declared a national monument in 1955 and is under the management of the Office of Public Works.
The site contains more than 10th century high crosses, a 62-foot round tower, the grave of Rory O'Connor, the last high king of Ireland, and other interesting historical and archeological wonders. It also has a visitor center with exhibits and guided tours are provided.
The graveyard surrounding the site continues to be in use and religious services are held regularly on the site in a modern chapel.
Operating Hours
Open all Year
November – Mid March
Daily 10:00 – 17:30
Mid March-May
Daily 10:00 – 18:00
June – August
Daily 09:00 – 18.30
September – October
Daily 10:00 – 18:00
Closed 25th & 26th December
The last admission is 45mins before closing. Average Length of Visit 1½ hours.
Admission Fee
Adult: €8.00
Group /Senior: €6.00
Child / Student : €4.00
Family: €20.00
Contact Information
Address: Clonmacnoise Co. Offaly N37 V292
Phone: +353 (90) 967 4195
Email: clonmacnoise@opw.ie
6.Clara Bog Boardwalk
Forming over 50% of the remaining area of uncut raised bog in northwest Europe, a stroll in the picturesque Clara Bog Boardwalk is one of the best things to do in Offaly.
Located on Rahan Road, it is said that you can experience ten thousand years of history in the 10 square kilometers that span Clara Bog and its surroundings.
This place is a naturally wet environment, a nature reserve is home to many protected wildlife species. It has a Visitor Centre & Nature Reserve boardwalk, a 1-kilometer looped walk on Clara Bog.
A walk here lets visitors see the site's incredible flora and fauna which Clara Bog is home to and soak up the atmosphere of an exceptional raised bog in the heart of Ireland.
Operating Hours
Monday- Friday-10am-5pm
Saturday, Sunday & Bank holiday: closed
Contact Information
Address: Clara Bog Visitor Centre, Ballycumber Road, Clara, Co. Offaly – R35 T621
Phone:+353 57 9368878
Email:claraguides@ahg.gov.ie
7.Grand Canal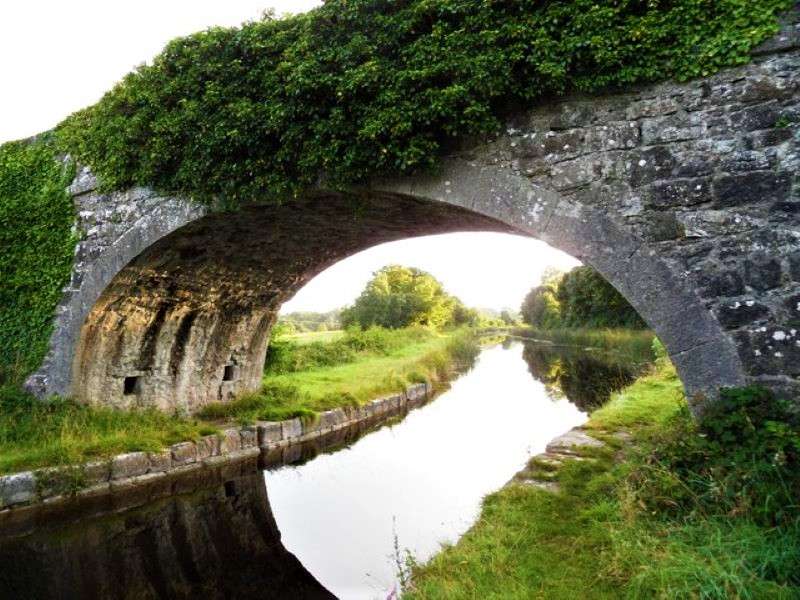 Located in Edenderry and running across the Midlands, the Grand Canal is a very important part of the region's history as well as a nice place for a stroll while enjoying the scenery.
This Grand Canal runs 64 kilometers through the villages of Edenderry, Daingean, Tullamore, Rahan, Pollagh, and Belmont in County Offaly.
It is used by walkers, cyclists, fishermen, and hosts various festivals and events in Edenderry and nearby towns.
One of the best things to do in Offaly is to either stroll or bike along the canal, take in the picturesque townscapes and discover flora and fauna through the bogland.
8.Tullamore Distillery
A visit to any place in Ireland is not complete without a trip to a brewery or distillery. Considered as one of the best attractions in Offaly, the Tullamore Distillery is a 19th-century warehouse, home of Tullamore Dew whiskey located on the grand canal.
A visit to Tullamore takes you on a guided tour where you learn its history, like how the whiskey brand got its name by using the initials of one of the 19th-century whiskey-makers Daniel E. Williams.
The guided tour is a mix of audiovisual and traditional storytelling to help visitors see, smell, taste, and understand the craft, time, and passion dedicated to each glass of Tullamore Dew Irish Whiskey.
At the end of the tour, a sample of Tullamore Dew awaits all adult visitors.
Operating Hours
Opening Times:
Mon-Sat: 9.30 – 18.00
Sun/Bank Holidays: 11.30 – 17.00
December 24th, 28th, 29th & 30th: 11.30am – 5pm
Closed: December 25th – 26th & December 31st – January 2nd inclusive
Contact Information
Address: Tullamore D.E.W. Visitor Centre Bury Quay Tullamore Co. Offaly Ireland
Phone:+353 57 932 5015
Email: info@tullamoredew.com
9.Slieve Bloom Mountains
One of the best walking locations in the country that's still unspoiled and where you get to feel as if you have the place to yourself is the Slieve Bloom Mountains.
This vast mountain park has the largest continuous area of upland blanket bog and forestry in Ireland.
These mountain ranges also stretch through the towns of Offaly and Laois. It is an ideal place to explore, with eco-trails, forest paths, and a sign-posted walk known as The Slieve Bloom Way.
Wildflowers bloom year-round in Slieve Bloom such as the famed "carpet of bluebells" in May. They also hold yearly events such as the Slieve Bloom Walking Festival.
10.Leap Castle, Clareen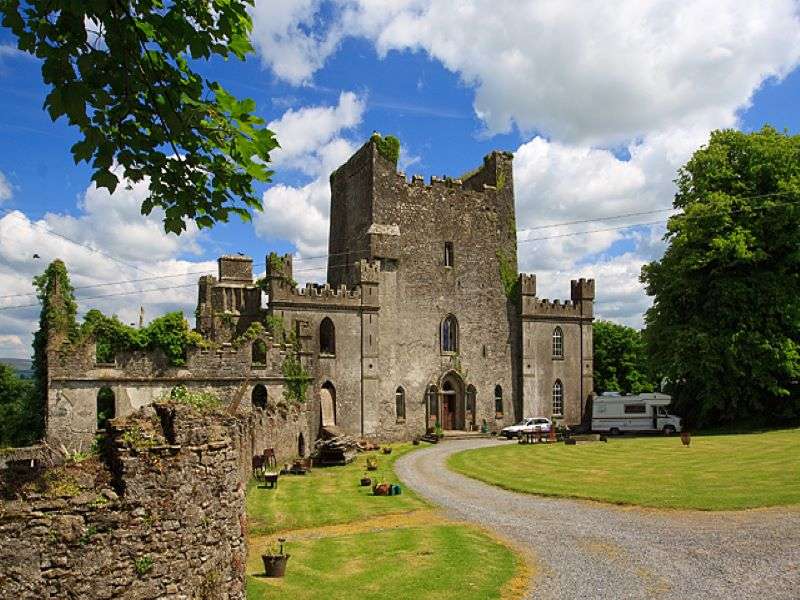 If you're up for a different castle tour experience then you must request a visit to this old fortress situated in the south of Brim.
Truly one of the best places to see in Offaly, and especially if you're into the strange and macabre, the Leap Castle is considered "the most haunted castle in Ireland."
There were no records that say when it was built exactly, only that it is somewhere between the 13th and the 16th century, and that it was once the home of the O'Carroll clan.
Townfolks and those who have visited the castle say that its chapel is home to many spirits, as they have experienced strange events, lights, and smells while there.
The castle is privately owned by the Ryans family, so it is recommended to call beforehand if you want to visit and explore inside.
Contact Information
Address: County Offaly, Ireland, north of Roscrea R421.
Phone: +353868690547
Email:seanfryan@outlook.com
11.Lough Boora Discovery Park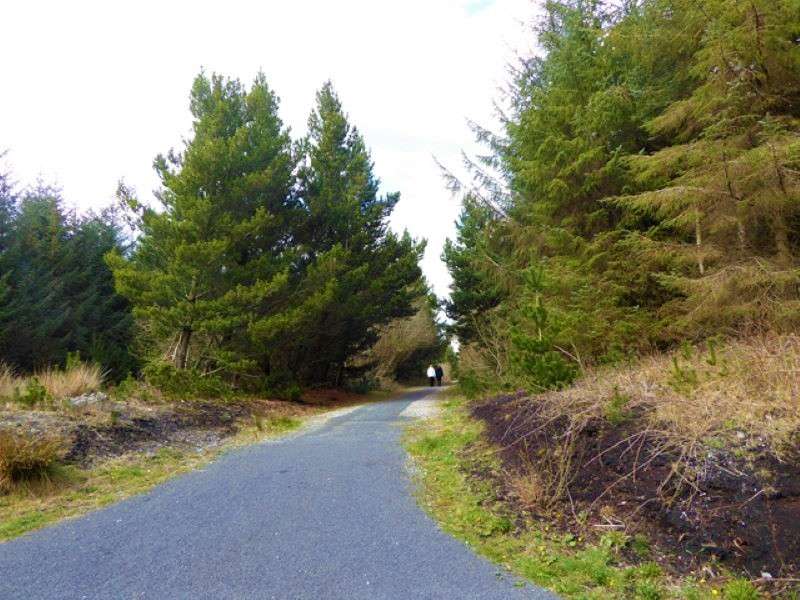 Lough Boora Discovery Park has thousands of hectares of cutaway bogland that has been rehabilitated to provide a world-class resource to all those who go to see it.
After the Irish company Bord na Móna extracted peat from this area, they converted approximately 5,000 acres to a public amenity where wetland plants and wildlife could thrive.
A perfect place to explore and one of the best things to do in Offaly on weekends, discovering Lough Bora by walking or biking provides you with more than 20 miles of trails. You'll pass plenty of moist black peat—that Bord na Móna came to harvest as you hike or bike.
Make sure to grab a handful and experience this unique organic material, a precursor to coal, that holds plant remains from thousands of years ago.
Aside from being a haven of flora and fauna for nature lovers as well as families, walkers, and cyclists, Lough Bora is also home to sculptures made from retired peat mining equipment, as well as some that are woven from living willow, a woody plant that grows well in wetlands.
These days you can see more than two dozen sculptures at Lough Boora Discovery Park. The number of sculptures varies from year to year as some are added and others, intentionally made to erode or disappear.
Another attraction is the Fairy Avenue with numerous fairy doors, tunnels, and other structures woven from willow branches scattered within the forest beyond the sculpture trail.
Operating Hours
Reception at the Visitor Centre is open from 10 am – 4 pm.
From April – October 2019: 10 am – 6 pm.
Contact Information
Address: Lough Boora Discovery Park Visitor Centre Boora, Co Offaly, Ireland
Phone: 057 9340010
Email: info@loughboora.com