When in the Northern Ireland capital, Titanic Belfast is a definite must-visit. More than a tourist attraction, it is an experience. Located right in the heart of Belfast, this six-story building is right next to the site where the world-famous ship was constructed. Currently, it is one of the best things to do in Belfast, Northern Ireland.
Titanic Belfast: The World's Largest Titanic Visitor Experience
Ireland Travel Guides contains affiliate links all throughout the site. If you choose to purchase a product or book services through our affiliate links, this earns us a commission at no extra cost to you. For our complete disclosure, click here
History of the Titanic Belfast
A visit to the Titanic Belfast Museum is a one-of-a-kind cultural experience. The first four floors take you through nine interactive galleries. These galleries feature exhibitions about the Titanic from some design drawings to its first and only voyage.
There's also an impressive collection of original artifacts. These are carefully considered and guaranteed authentic. The curators at Titanic Belfast also made sure that these items add to the narrative of Belfast's maritime and industrial heritage, as well as that of the RMS Titanic.
Titanic Belfast is known all over not just for its associations with the legendary Titanic. It is also recognized for the great work that went into ensuring that visitors enjoy the experience. Just how much work, and how long did it take to put up this excellent Belfast attraction?
It all started with the location. The site where the museum stands now used to be part of the Belfast water. This area was used for a variety of purposes, including shipbuilding.
This was where Harland and Wolff constructed graving docks and slipways for building Titanic and Olympic ships.
Sadly, shipbuilding businesses eventually declined. As a result of disuse and disrepair, and most of the derelict buildings were destroyed. This abandoned area was named the Titanic quarter or TQ in 2001. Soon after, plans to refurbish the area started floating around.
The TQ was to be converted into a vibrant, interesting place that has with a Science park, hotels, houses, a museum, and other entertainment facilities.
In 2008, plans for the 'Titanic Signature Project' was completed. Funding would come from various organizations such as Northern Ireland Tourist Board and the Belfast Council.
More support came in as the construction of the Titanic Belfast museum progressed. The Titanic Belfast was eventually finished then opened to the public in March 2012.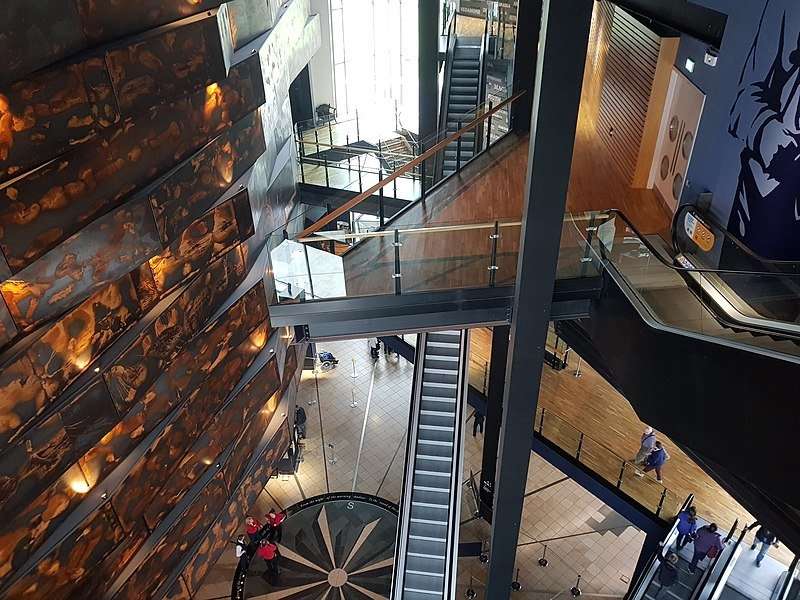 The Titanic Belfast has an area of 14,000 square meters. This already covers the interactive galleries and underwater exploration theater. There are also cabins like those in the actual Titanic as well as deluxe suites. Titanic Belfast was designed and intended to tell a story. This story does not solely pertain to the infamous ship but also the era gone by.
That particular era was when the economy boomed and shipbuilding was still a major industry. Titanic Belfast was even of the same height as the infamous ship!
Inside the attraction, the galleries and exhibitions feature everything you'd ever want to know about the ship. It starts from the sketches, its conception in Belfast during the early 20th century.
It continues through the construction and launch, to the much-celebrated maiden voyage up to the tragic end.
Most of us may know the story already but in Titanic Belfast, it is told in a way that's just a tad cheeky, fresh and insightful.
There are some special tours you can join in Titanic Belfast especially if you're working around a strict schedule while in the city. The first is the Discovery Tour, which lasts for an hour and done inside and outside the building.
This tour is basically like tracing the steps of those who designed and constructed RMS Titanic. The other tour is the Afternoon Tea, where you can enjoy Sunday tea in a luxurious Titanic suite.
There's also a replica of the staircase and jazz musicians playing while you sip your tea.
Visitors Information for Titanic Belfast
Operation Hours
| | |
| --- | --- |
| January – March | 10am – 5pm |
| April – May | 9am – 6pm |
| June | 8.30am – 7pm |
| July – August (Sun-Thurs) | 8.30am – 7pm |
| July – August (Fri-Sat) | 8.30am – 8pm |
| September | 8.30am – 6pm |
| October (Mon – Fri) | 10am – 5pm |
| October (Sat – Sun) | 9am – 6pm |
| November – December | 10am – 5pm |
Admission Fees
Adult£19.00
Child (5-16)* £8.50 Child (under 5)Free
Family Pack (2 adults, 2 children) £46.50
Essential Carer Free
Student/Unemployed [Mon-Fri Only]£15.50
Senior (60+) [Mon-Fri Only]£15.50
Contact Information
Address: 1 Olympic Way, Queen's Road, Belfast BT3 9EP, United Kingdom
Phone: +44 (0)28 9076 6399 / +44 (0)28 9076 6386
Email: welcome@titanicbelfast.com
Titanic Belfast Museum Tours
If you are looking for tours to the museum, here are some of our recommended Titanic Belfast tours for you.
Hi, I'm Christine – a full-time traveler and career woman. Although I'm from the Philippines, my location independent career took me to over 40 countries for the past 8 years. I also lived in 3 continents – from the Caribbean, South East Asia to Africa. But despite living in several countries, my love for Ireland remains the same. A country that had been a part of my life since I was 14 because of my love for Irish music and bands. Ireland Travel Guides was born because of this passion and hopefully, in some little ways, this website will be able to help you on your next trip to Ireland.