Located in Leinster, Carlow is home to some of the most beautiful scenery in Ireland. A vibrant town with a rich rural history and surrounded by picturesque countryside it may seem difficult to pick places to see or things to do in Carlow.
Here's a list to help you figure out your Carlow itinerary: places and activities that are a mix of culture, history, fun and much-needed relaxation.
Best Things To Do In Carlow, Ireland
1.Carlow Castle
Ireland Travel Guides contains affiliate links all throughout the site. If you choose to purchase a product or book services through our affiliate links, this earns us a commission at no extra cost to you. For our complete disclosure, click here
Carlow Castle is a must for history buffs, with all the strange events that it went through since it was built. One of the best attractions in Carlow is located near the River Barrow and was constructed somewhere between 1207 and 1213.
Built using limestone, Carlow Castle had multiple owners over the centuries, until it was blown up accidentally in 1814 by a doctor who wanted to turn it into an asylum.
At present, only the west wall and two towers of this Medieval fortress remain, but those are enough to give you an idea of the size of Carlow Castle before its accidental destruction.
It is owned by the Office of Public Works and you can visit the ruins at any time. There were no attempts to restore or renovate it but it's still suite magnificent despite its condition.
Opening Hours
24 hours
Contact Information
Address: Graigue, Carlow, Ireland
Phone: + 353 (0) 59 9130411
Email: info@carlowtourism.com
2.Huntington Castle
Formerly a stronghold, Huntington Castle was originally constructed in 1625 by Sir Laurence Esmonde and boasts of some impressive features, such as the Georgian terraces and castellated Victorian extensions.
Inside the castle grounds, visitors can marvel at the lime tree avenue, parterre, the Yew Walk, and the estate's fish ponds which pretty much as they were back in the 17th century.
Inside the castle itself, you can view the kitchens, drawing room, a temple of Isis in the old dungeons, and out to the sacred well of St. Brigid. Also within the grounds are the oldest hydroelectric turbines, providing the castle with its own power supply since 1888. Huntington Castle is one of the best castles to visit in Ireland.
Opening Hours
Summer Season opening times:
Saturday & Sunday 11-5pm
Tours at 2pm, 3pm & 4pm
​From 1st May
Tearooms and Gardens
11-5pm
Tours at 2pm, 3pm, 4pm, 5pm
Contact Information
Address: Clonegal County Carlow Ireland
Phone:+353 539377160
Email: info@huntingtoncastle.com
3.Carlow Cathedral
With its prominent Neo-Gothic spire and lantern, the Cathedral is easily one of this towns landmarks and one of the places to see in Carlow. With the church's tallest part at 46 meters, this was designed by the Gothic Revival trailblazer Thomas Cobden and was inspired by the Belfry of Bruges in Belgium.
The cathedral's stunning blue-grey facade and spire are made from stone that was sourced from a quarry on the Carlow-Tullow Road. Its great framed roof is made of oak supplied by the owner of the nearby Oak Park estate.
The cathedral is dedicated to former Bishop of Kildare and Leighlin, Dr. James Doyle, who passed away in 1834. His memorial statue was carved in Rome in 1839.
Opening Hours
Sunday Masses:

Sat. Vigil:- 6.15pm ('As Gaeilge' 1st & 2nd Sat. Oct. to May)
Sunday:- 8.30am 11.00am 12.30pm & 7.00pm
Weekday Masses:
Monday to Friday:- 7:30am & 10.00am
Saturday:- 10.00am – Novena to Our Lady of Perpetual Help
Holy Hour: Every Friday – 7:00 pm
Contact Information
Address: College St, Graigue, Carlow, Ireland
Phone: 059 91 64087
Email: info@carlowcathedral.ie
4.Duckett's Grove
Covering 8,000 hectares, the estate was built during the first decades of the 19th century. John Davidson Duckett ordered a Gothic Revival castellated house, and for more than three centuries the Duckett family literally lorded it over the Carlow countryside to the east of the town. The last male Duckett passed away in 1908, and the house was later destroyed by fire in 1933. The walls are practically intact, however, and still decorated with castellations, window traceries, turrets, and bartizans.
Inside the castle, there are tea rooms on the courtyard, a restored walled garden that has flowering shrubs such as roses and exotic peonies, all trimmed with boxwood hedges. An ornamental species of banana continues to thrive in the gardens, because of its warm climate.
Opening Hours
Gardens and ruined mansion daily, daylight.
Admission Fee
Free
Contact Information
Address: Duckett's Grove Walled Gardens & Pleasure Grounds Near Carlow Town.
Phone: + 353 (0) 59 9130411
Email: info@carlowcarlowtourism.com
5.County Carlow Military Museum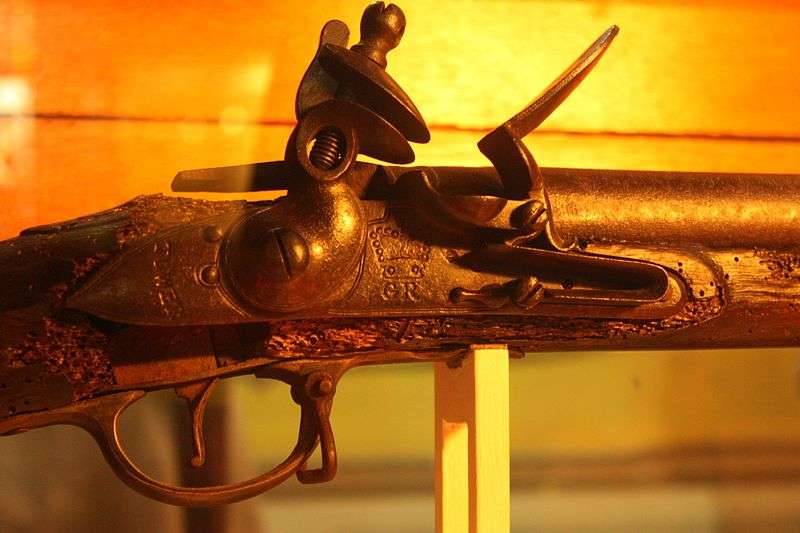 Located inside Old Church on the Athy Road, County Carlow Military Museum is dedicated solely to the military history of County Carlow. Considered one of the best things to see in Carlow, this museum is privately run, and most of the items on exhibit were donated by locals, such as vintage uniforms, weapons from the Irish Army, the Carlow Militia, the Irish War of Independence, World War 1 and many others.
Also among the displays are tableaus with reproductions of a Medieval battle and a trench from the First World War. From the memorabilia, you can also find out about Irish involvement in UN peacekeeping missions to Somalia, Lebanon, and Congo.
One of the museum's most exciting artifact is a Brown Bess musket from the Irish Rebellion of 1798.
Contact Information
Address: Old Church, Athy Rd, Strawhall, Carlow, Ireland
Phone: +353 87 690 4242
6.Oak Park Forest Park
Located 3 kilometers north of Carlow Town, Oak Park Forest is a peaceful forest park with a mix of beech, silver fir, oak, pine and sycamore trees thriving in its 120 acres of forestry.
The forest park has color-coded trails of varying lengths. It is also an ideal location for a family day out with a playground, picnic tables, public toilets and exercise machines available in the park premises.
Opening Hours
Year round daily, daylight hours.
Admission Fee
Free
Contact Information
Address: Oak Park, Carlow
Phone:+ 353 (0) 59 9130411
Email: info@carlowtourism.com
7.The Chocolate Garden of Ireland
A haven for chocolate lovers and one of the best attractions in Carlow, the Chocolate Garden of Ireland is a modern chocolate and ice cream factory located in a village called Rath, in Carlow. The place offers tours where you can try award-winning handmade chocolates, hot chocolate, and ice cream. A real paradise for anyone with a sweet tooth, the chocolate garden also has daily chocolate mold lessons, where you can craft your own choco creation and enjoy delicious ice cream while you wait for your mold to set.
Admission Fee
Group Rate: Workshop (>15) €11.50 (normally €13.50) – 1 hr 40 mins duration
Group Rate: Mould-Making & Ice Cream €10 – c.30 mins duration
Group Rate: Tea/Coffee & Biscuits €3; Tea/Coffee & Scones €4.00
Contact Information
Address: Rath East, Tullow, Co. Carlow, R93 PY82, Ireland
Phone: +353 (0)59 648 1999
Email:info@chocolategarden.ie
8.Rancho Reilly
The ultimate location for family fun, Rancho Reilly which is located in the Carlow countryside has everything kids could possibly want. The place is a children's activity center in four acres of farmland, that has a pet farm, with ponies, miniature goats, rabbits, cows, reindeer, pot-bellied pigs and a variety of birds.
Children will be able to handle many of these animals and take part in all sorts of other fun. Rancho Reilly also has crazy golf, sunken trampolines, and picnic tables, an indoor area contains a soft area for children aged 3-11 and a comfortable coffee shop, with a burning stove so the adults can relax.
Opening Hours
Open Saturday & Sunday(April -Sept)
11.00am – 6.00pm
(plus school & bank holidays)
Admission Fee
€3.50 per Adult
€7.50 Per child over 1 year
Wheelchair Accessible.
Contact Information
Address: Springhill Rd, Carlow
Phone:087-7701181
Email:info@ranchoreilly.com
9.Borris House
Known as a unique venue for weddings, balls, concerts and cultural ceremonies, Borris House is one of the best places to visit in Carlow. The ancestral home of the MacMorrough Kavanaghs, High Kings of Leinster, this Tudor Gothic Mansion was modeled after an 18th-century house and a former 15th-century castle, making it a landmark of Irish architectural history. It is located in the most spectacular scenery Ireland has to offer, with the backdrop of the river Barrow which flows beside the beautiful woodland and gardens of Borris House.
Opening Hours
May-September
Tours are scheduled for 1 pm and 2 pm
Admission Fee
€10.00 per person
An entry fee of just €5.00 permits access to the granary to see the looped film of the history of Borris House, the lace garden and wider grounds.
Contact Information
Address: Borris, Carlow, Ireland
Phone: +353 (0)599 771 884
Email: events@borrishouseweddings.com
10.Walsh Whiskey Distillery
A visit to an Irish town isn't complete without stepping inside a whiskey distillery, and a trip to the Walsh Distillery definitely should be on your list of things to do in Carlow. Situated in the 18th-century Royal Oak estate, the Walsh Whiskey Distillery invites visitors for tours to show how premium, hand-crafted Irish whiskey is made. It is one of the largest working distilleries in Ireland, and visitors to Walsh Whiskey Distillery can see first-hand how all three types of Irish whiskey – pot still, malt and grain – are crafted.
Writers' Tears and the Irishman are both distilled here and both have garnered awards. All of the ingredients for Walsh's whiskey are local, as barley is in plentiful supply in Carlow, while Royal Oak sits above a 200-million-liter aquifer, making it a perfect place to create exceptional quality whiskeys.
Contact Information
Address: Royal Oak, Clorusk Lower, Carlow, Ireland
Phone:+353 59 9133232
Email: info@walshwhiskey.com
11.Delta Sensory Gardens
Delta is a perfect space for anyone wanting peace and tranquility. Consisting of 2.5 acres of land, these scenic gardens are decorated by the country's top designers. Located in Carlow's northern outskirts, the Delta gardens are totally out of the ordinary.
For one, its top attraction is the kugel fountain, with a one-ton ball of solid marble floating in the water.
In one part there are 16 interconnected areas, beautifully manicured lawns with whimsical sculptures, waterfalls, ponds, pergolas, and fountains. Regular visitors to Delta find it a joy to see the gardens change with the season, from tulips and daffodils in spring to the russet tones of the beech hedges in autumn.
The Delta Sensory Gardens also has a place selling plants and garden decorations, a cafe and hosts events throughout the year.
Opening Hours
Monday to Friday: 9am – 5.30pm
Weekends and Public Holidays: 11 am – 5.30pm
Admission Fee
Adult €5
Student €4
Senior Citizens €4
Children under 13 years Free (when accompanied by an adult)*
Group Rate On Application – full tour included
Yearly membership Single €20, Couple €35
Contact Information
Address: Strawhall Estate, Carlow, Co. Carlow, Ireland, R93 Y959
Phone: +353(0)59 9143527
12.Brownshill Dolmen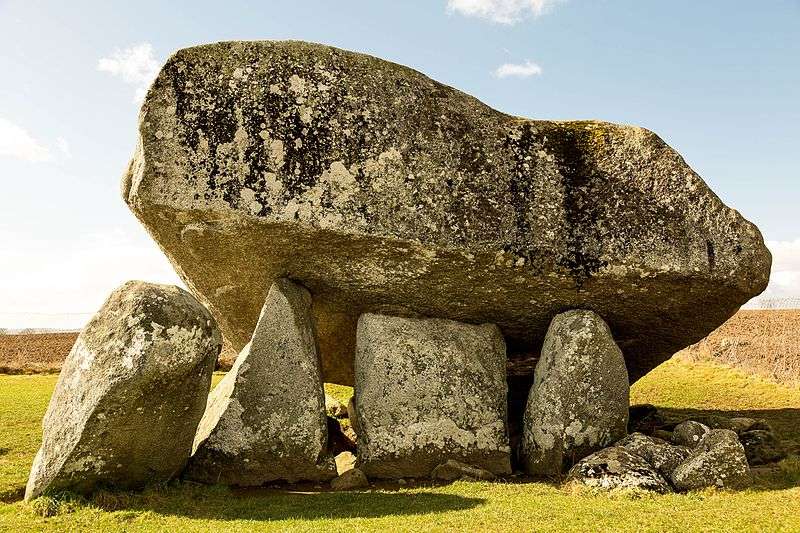 A major point of interest in Carlow is the Brownshill Dolmen, a megalithic portal tomb with the large granite capstone that weighs around 103 tonnes. An amazing piece of prehistoric engineering, the Brownshill Dolmen is an Irish National Monument. is about 6,000 years old, and was in use for around 2,500 years.
The dolmen also retains a certain mystique because it has never been officially excavated. It is one of the largest Dolmens in Europe making it a truly important historic site and definitely worth a visit.
Opening Hours
24 Hours
Admission Fee
Free
Contact Information
Address: Hackettstown, Hackettstown Rd, Carlow, Ireland
Email: info@carlowtourism.com