Brigid's Cross or Saint Brigid's Cross is widely believed to be a Christian symbol and an old Irish symbol, which is also tied with Celtic Mythology. This is a symbol that's seen across Ireland every February 1, which is the feast day of Brigid of the Tuatha de Danaan. Read on to learn more about the history and meaning of Brigid's Cross.
Brigid's Cross Symbol – History and Meaning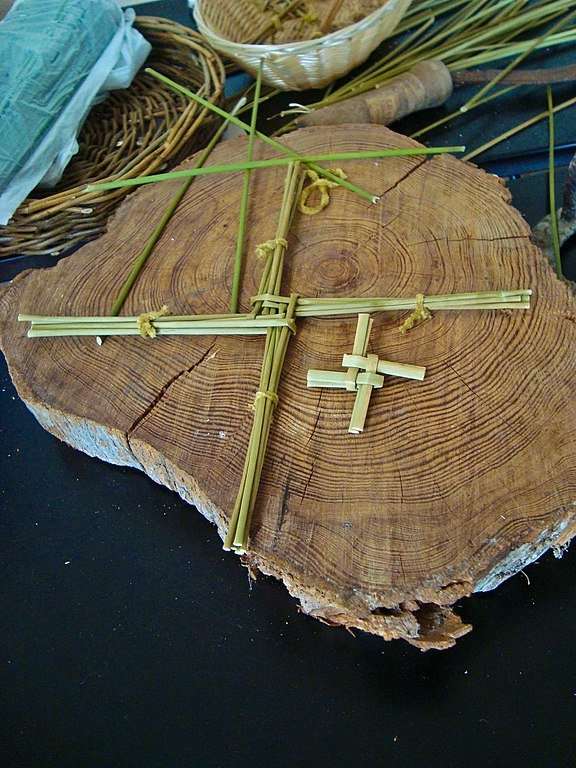 Ireland Travel Guides contains affiliate links all throughout the site. If you choose to purchase a product or book services through our affiliate links, this earns us a commission at no extra cost to you. For our complete disclosure, click here
Also known as Saint Brigid, she is considered to be the female counterpart of Saint Patrick. She is as beloved as the emerald isle's patron saint and much revered as a life-giving goddess among the Celts.
History
Brigid's Cross is a variation of the universal cross symbol that is mounted in all Irish homes every first day of February. This is a tradition that is practiced in honor of Saint Brigid and as protection against fire and evil spirits.
Saint Brigid is said to have been the one who came up with this distinct cross symbol, and that the design was inspired by the pagan sun wheel.
The story on how Brigid came up with the cross was also somehow tied to the pagans.
According to an old tale, there was once an old pagan chieftain who lay delirious and restless in his deathbed in his Kildare home. Nobody can calm him down so his servants summoned the saintly Brigid to help put him at ease.
Brigid came to see the old man and sat by his bedside. She patiently calmed and consoled him.
As she soothingly spoke to the dying man, Brigid saw the rushes strewn all over the floor. She picked up the strands, began waving as she kept watch on the man, and eventually formed a cross with the rushes.
She explained the meaning of the cross to the old chieftain until her soothing words brought peace to his soul. The old chieftain eventually relaxed, as he lay captivated by Brigid's words. Just before his death, the old pagan chieftain was baptized as a Christian.
News about this conversion spread across the land, and since then, people made rush crosses to honor the occasion. February 1 became the feast day of Saint Brigid, and aside from the cross, boxty pancakes were served to celebrate this day.
Brigid's Cross Symbol Meaning
Brigid's Cross (Cros Bríde, Crosóg Bríde or Bogha Bríde in Irish) is a small cross woven from rushes or straw. It has a distinct squarish center.
The cross is made by weaving around 12 -16 strands of the rushes from the center to create the cross shape. A crisscross weave is repeated until the cross is sturdy. The ends are then tied then blessed with holy water.
There are variants of this cross that only has three radials. Brigid's Cross is often compared to the pre-Christian sun cross, which was known among the Celts.
Putting up Brigid's crosses in households in Ireland is done every first day of February, the feast of Saint Brigid. The cross mainly signifies protection for the household, from evil spirits, bad energies, hunger, and fire.
Every February 1, a cross is hung on the door to ward off any bad elements that might enter the house. The cross from the previous year is then burned to keep the fire away from the household.
Hi, I'm Christine – a full-time traveler and career woman. Although I'm from the Philippines, my location independent career took me to over 40 countries for the past 8 years. I also lived in 3 continents – from the Caribbean, South East Asia to Africa. But despite living in several countries, my love for Ireland remains the same. A country that had been a part of my life since I was 14 because of my love for Irish music and bands. Ireland Travel Guides was born because of this passion and hopefully, in some little ways, this website will be able to help you on your next trip to Ireland.