They say there is no such thing as a visitor to a Limerick pub, as once you spend more than five minutes inside one, you're already considered and treated like a local.
Whether you're looking for some savory Irish food any time of the day, a relaxing cup of coffee or tea, a pint of the dark stuff or craft beer, a lively debate on politics or rugby, or want to enjoy traditional Irish music – there is a Limerick pub for you.
Here are some of the best pubs in Limerick for you to visit and enjoy while you're in this vibrant Irish city.
10 Best Pubs In Limerick, Ireland
1. Bobby Byrne's
View this post on Instagram
Located at the corner of Woulfetone Street and O'Connell Avenue, Bobby Byrne's is one of those pubs that feels like home. It's cozy and warm and has something for everyone at any time of the day. This pub was established and named after former Limerick mayor Bobby Byrne, and is known for its award-winning pub grub as well as being one of the finest pubs in the city.
Come here for something filling for breakfast, a hearty meal for lunch, or a delicious dinner with drinks from the pub's diverse selection. Stay and grab another pint and enjoy impromptu live music performances, which happens almost every night.
2. Costello's Tavern
Ireland Travel Guides contains affiliate links all throughout the site. If you choose to purchase a product or book services through our affiliate links, this earns us a commission at no extra cost to you. For our complete disclosure, click here
Whether you're alone or with a companion or two, a visit to Costello's Tavern guarantees an anything-can-happen kind of evening.
For one, this pub and nightclub attract all sorts of characters — from local celebrities to international exchange students. Order a pint and people watch, or head upstairs for a round of beer pong or a go at the karaoke as you belt out one rock anthem after another.
3. Mother Mac's ‬
Located in High Street, the recently refurbished Mother Mac's is formerly known as The Roundhouse. This is also hailed as 'the mother of all pubs', known for their unusual craft beers. The tap changes regularly, do you get to sample a different craft beer each time you visit.
The atmosphere is laid back, the interiors are cozy, and it's the ideal place to hang out with a date or with friends to enjoy easy conversation over a varied pint of craft beers.
4. The Curragower‬
View this post on Instagram
The Curragower‬ is best known for its award-winning pub food, most notably the locally sourced and always fresh seafood.
This pub is also among the best places to watch the sun go down as you nurse a pint and enjoy scenic views of places like King John's Castle – one of the best castles in Limerick. Along with Limerick City Hall, and Curragower Falls.
The crowd is often a good mix of visitors checking out the Limerick pub scene, and the friendly locals so being here is a great way to feel like one.
5. Dolan's
View this post on Instagram

If you're after a great mix of good pub grub, your favorite pint, and a night of music, Dolan's is the best Limerick pub to be, hands down.
This is easily the hub of the city's music scene, as they feature a variety of performers across genres. They have local musicians, performers from all over Ireland, and even beyond – be ready for a wonderful surprise to enjoy when you visit.
There's traditional Irish music in the front bar, heavy rock in the basement, and even a sample of Limerick's emerging hip-hop scene. Apart from that, there's also live sports on TV screens in the main bar. Expect a fun, lively night, when you visit — that's definitely Dolan's trademark.
6. O'Connell's Traditional Guinness Bar
The old-world charm of O'Connell's Traditional Guinness Bar, along with its award-winning pub grub are what draws most people to this charming spot in Limerick City.
O'Connell's‬ is also recognized as a rugby bat, where viewing sessions of rugby matches are held.
The pub also regularly hosts players of the Munster rugby team, serving them pints of dark stuff and their delicious food offerings.
Sample all these when you visit, from the filling breakfast to any of those in the evening menu prepared by award-winning chef John Carr, such as chunky sirloin. duck confit and herb-crusted.
7. Jerry Flannery's
Essentially a rugby pub — that is, a place where one can watch the live telecast of Munster (local team) matches.
Rugby is said to be Limerick's very own religion, and once you're inside Jerry Flannery's, it won't even take five minutes before anyone tells you why – over a pint of course. Located in Catherine Street, Jerry Flannery's has been in business since the 60s.
Aside from the pub grub and a varied drink selection, this place is the official hotspot whenever there's a Munster or Rugby International games.
Everyone's attention is on the huge TV screen, fixed on the match and loud conversation is prohibited. The vibe is electric, and distinctly Limerick.
8. The Locke Bar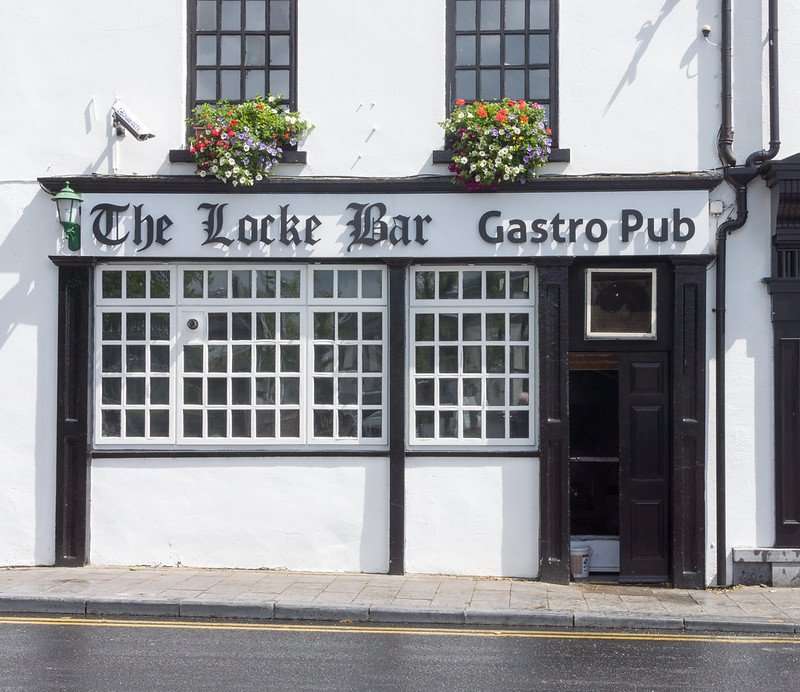 How about a pint at a centuries-old pub? While in Limerick, be sure to stop by for some delicious traditional food and a pint of the dark stuff.
The Locke Bar dates as far back as 1724, an authentic local institution known for its live music and old-world atmosphere.
While here, you definitely shouldn't miss the chance to sample their tasty offerings such as fish and chips, potted crab, lamb stew, and Irish steak.
The Locke Bar pretty much has everything you'd ever need for a good place to hang out – a great atmosphere, live music, and pub grub to go with your pint.
9. South's Pub
Known to serve some of the best Guinness outside the St. James Gate Brewery, and with its charming interiors, South's is easily one of the best Limerick pubs.
Located just at the edge of Limerick's Crescent, about a three-minute walk from the city canter, South's Pub offers both locals and tourists alike a unique pub experience with its quaint Georgian facade and ornate yet cozy interiors.
The pub also features an acknowledgment to one of the pub's former regulars, Frank McCourt, who authored the Pulitzer winner 'Angela's Ashes: the toilets are signed Frank's and Angela's instead of Ladies and Gents.
A note to those who would order a pint here though – be not in a hurry to get your drinks as soon as you order.
South's Pub employs an expert bar staff, who all have mastered the two-part pour into a practiced art form. Watch your order being prepared and once served, savor it.
10. The White House
View this post on Instagram
Located in the heart of Limerick City, The White House pub still boasts its original name of James Gleeson on top of the door.
It's not painted white either, but this pub that was established in 1812 is still known as its Pennsylvania Avenue namesake.
Situated at the corner of O'Connell and Glentworth Streets, The White House attracts Limerick's journalists, lawyers and actors, and basically everybody who is anybody, who all enjoy their drinks on the pub's island tables and wooden bar stools.
For most locals, this is a great place to enjoy their morning coffee while reading the paper, an afternoon drink, or a late-night hang-out spot.
The White House also attracts the creative and literary types with their open mic nights. A unique place with so much to offer, The White House is definitely among the best pubs in Limerick.
Hi, I'm Christine – a full-time traveler and career woman. Although I'm from the Philippines, my location independent career took me to over 40 countries for the past 8 years. I also lived in 3 continents – from the Caribbean, South East Asia to Africa. But despite living in several countries, my love for Ireland remains the same. A country that had been a part of my life since I was 14 because of my love for Irish music and bands. Ireland Travel Guides was born because of this passion and hopefully, in some little ways, this website will be able to help you on your next trip to Ireland.