Flaunt your Irish heritage or be a wee bit Irish with these cheeky, cute and funny St. Patrick's Day shirts that can only get you ladies any of the following — a few states, some laughs, a high five, a free pint of beer or glass of whiskey and if you're really lucky, a pot of gold.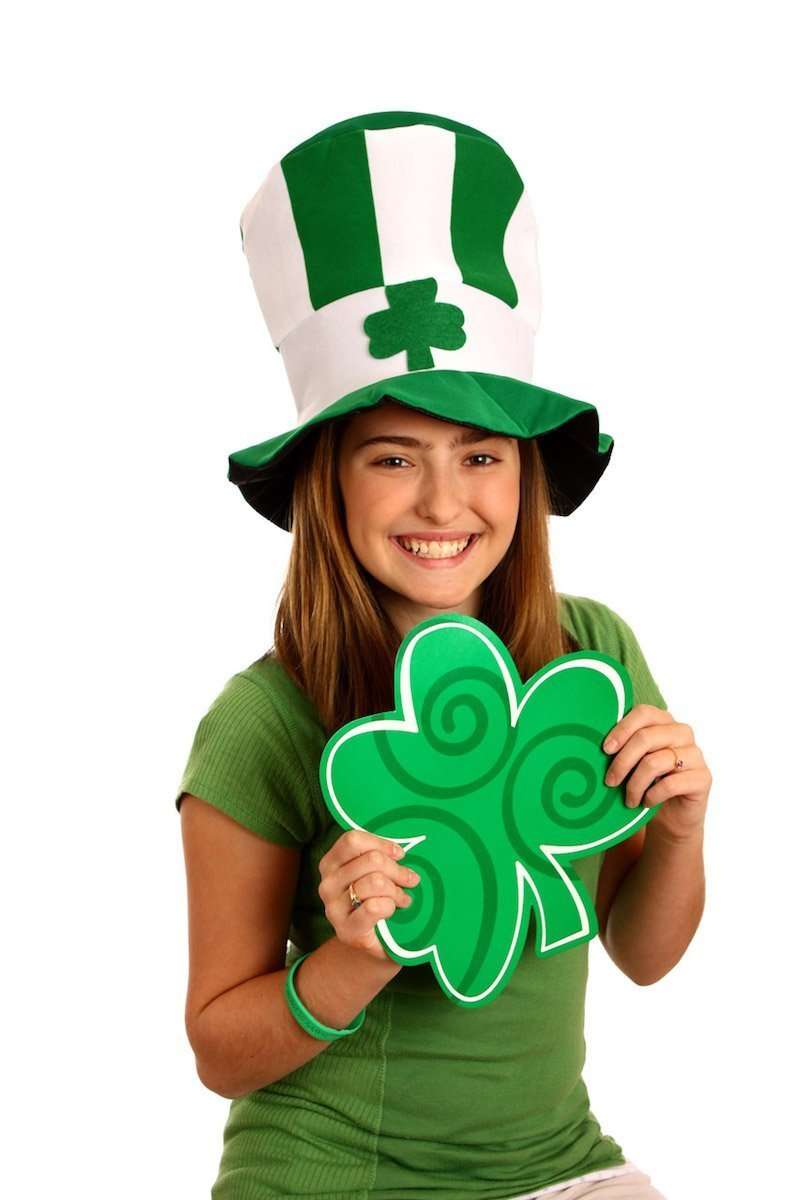 Ireland Travel Guides contains affiliate links all throughout the site. If you choose to purchase a product or book services through our affiliate links, this earns us a commission at no extra cost to you. For our complete disclosure, click here
A St. Patrick's Day tradition says that green is its official color and if you're ever caught not wearing green, be ready to be pinched. Most of these shirts come in green so see which one gets to be part of your St. Patrick's Day party wear.
So without further adieu, here are our recommended cheeky St. Patrick's Day Shirts for women.
10 Cheeky St. Patrick's Day Shirts For Women
A simple but versatile shirt that you can match easily pair with jeans or a skirt, this white shirt definitely won't make you feel out of place.
This cute shirt can also be worn off-shoulder and has a rounded hem that makes it look polished, definitely something you can wear to the parade or a pub.
The slightly distressed print and four-leaf clover are very Irish indeed, but we're not sure if wearing this will make you lucky enough to escape the Pinch Patrol.
If you are going to wear this on St. Patrick's Day while watching the parade or drinking with friends at a pub, wear a green jacket over it, pair with a green skirt of shorts or accessorize with a green scarf or green hat.
This shirt is your perfect excuse for drinking more than you possibly can in an entire year during St. Patrick's Day.
A funny reference to all that drinking and partying that happens every March 17, this shirt is best paired with comfy jeans or shorts, especially if you're planning to drink at least five pints on this merry day.
Made of soft fabric and available in various sizes and colors, including green!
Wear it to escape the pinches, or perhaps be guaranteed of being served more drinks because of the cheeky print.
A shirt that literally gets the party started on (or even before if you want) St. Patrick's Day, this one features an important announcement: Time For Some Shenanigans!
Available in various colors and sizes for men and women, the shirt also features a shamrock with the colors of the Irish flag.
This also comes in green to keep up with the St. Patrick's Day color of choice as well as avoid being a pinch.
Wear it to the parade, take it all the way to lunch and dinner and your pub crawl with friends and get everyone in the mood for more drinks and well, shenanigans.
A St. Patrick's Day shirt that'll surely get you some attention, some laughs, maybe a pint of Guinness or even a pot of gold, perhaps someone will simply dab back in appreciation.
The truly Irish shamrock and a leprechaun wearing a top hat and doing the 'dab' is featured on this cute fun shirt that's best paired with a cute skirt or shorts.
Accessorize with a cap and dab your way through St. Patrick's Day. This Fabulous distressed shirt is available in different sizes and colors and yes, there's green.
A shirt to honor your Irish roots if you're actually Irish or shirt to make your St. Patrick's Day intentions be known if you're a whiskey connoisseur.
This cute and funny shirt is best paired with distressed jeans or a flower skirt, then accessorize with a fun hat.
Join a parade and hit the local Irish pubs, you're sure to get some attention or a glass of Jameson on the rocks.
Be sure to get one in green and you're as ready for St. Patrick's as a leprechaun.
Featuring a four-leaf clove for good luck, and the "I Love Shenanigans" text, this shirt proves that more shenanigans, the better.
Take part of endless shenanigans on St. Patrick's Day and enjoy this fun-filled Irish holiday.
Get a green shirt for more good luck, and wear a funky hat to accessorize.

This is a twist on the classic 'Kiss Me, I'm Irish' saying that's associated with St. Patrick's day, and takes it further with a reference to all the drinking and shenanigans that go on during this fun holiday.
The original 'Kiss Me I'm Irish' is said to have started from the legend of the Blarney Stone in Blarney Castle, which visitors have to kiss for eloquence and good luck.
This shirt's twist on the classic saying includes the words 'Or Drunk, Or Whatever' as a cheeky addition referring to all the drinking and shenanigans that happen during St. Patrick's Day.
It comes in a variety of colors bit doesn't have a green one so when you wear it, be sure to pair or accessorize with something green to avoid being pinched.
A cheeky play on the 'Let's Get Ready To Rumble' that usually starts off sporting matches (particularly boxing), this shirt shamelessly references the common sight on the streets an St. Patrick's Day.
Ireland may have strict laws about getting drunk on public but sometimes, when you've had too much beer or whiskey and already seeing double, your body just decides it can't function normally anymore. Hence, the 'stumble' to replace 'tumble'.
It's bound to get you some laughs, or a pint of Guinness or a glass of Jameson. Be sure to add it to your list of go-to St. Patrick's Day attire.

Yes, this shirt is another reference to the choice activity during St. Patrick's Day and yes, the poor liver is once again featured but what can we do?
The Irish love their beer, and at the same time, St. Patrick's Day revelers should also be reminded about that vital organ that gets a beating with each pint.
This shirt is both a funny and a healthy reminder. Available in different sizes or colors, wear it on St. Patrick's Day to prove how Irish, or how drunk you are.
Not Irish but celebrating St. Patrick's Day? No problem, everyone gets a little Irish percentage every March 17 as long as you wear green, drink a pint of Guinness or join the parade.
This shirt is an honest and sober declaration of one's true intentions on St. Patrick's Day, and we're sure nobody would mind.
Wear it and you might even get a free drink or two. '0% Irish, M Here For The Beer' cones in a variety of colors and sizes and definitely a great addition to your St. Patrick's Day wardrobe.
Hi, I'm Christine – a full-time traveler and career woman. Although I'm from the Philippines, my location independent career took me to over 40 countries for the past 8 years. I also lived in 3 continents – from the Caribbean, South East Asia to Africa. But despite living in several countries, my love for Ireland remains the same. A country that had been a part of my life since I was 14 because of my love for Irish music and bands. Ireland Travel Guides was born because of this passion and hopefully, in some little ways, this website will be able to help you on your next trip to Ireland.