Trim Castle is the largest, best-preserved, and most impressive Norman castle in Ireland, and is best known as a filming location for the epic thriller 'Braveheart'.
It is located in the town of Trim, which got its name from the Irish Baile Átha Troim, or 'Town of the Ford of the Elder Trees', which means this was an important fording point on the River Boyne.
Trim Castle (Tips and Guide To First-Time Visitors)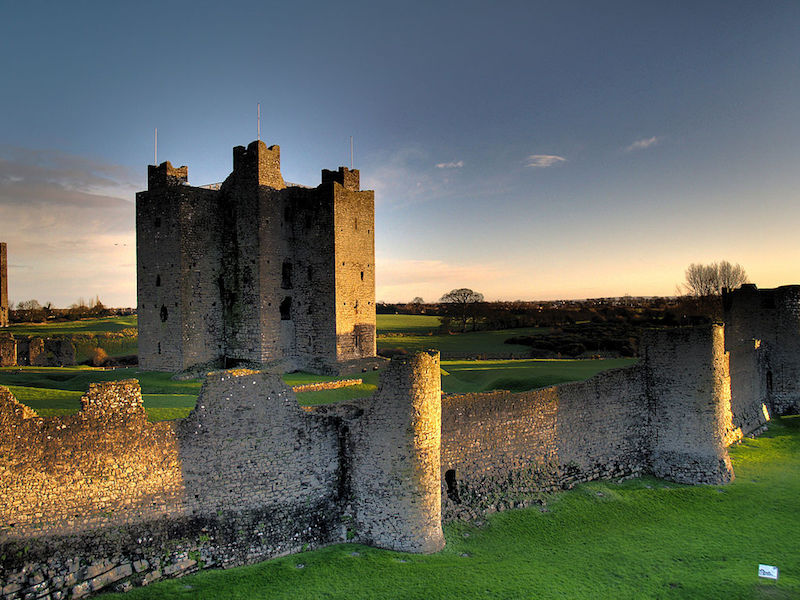 Ireland Travel Guides contains affiliate links all throughout the site. If you choose to purchase a product or book services through our affiliate links, this earns us a commission at no extra cost to you. For our complete disclosure, click here
It was constructed in 1172 by Hugh de Lacy and his son Walter, shortly after the arrival of the Anglo-Normans in Ireland, when King Henry II granted his baron Hugh de Lacy the Kingdom of Meath, along with the custody of Dublin.
De Lacy converted a ringfort into a wooden castle with a spiked stockade, which was eventually destroyed during an attack by the Gaelic Irish.
Work began on a more permanent stone replacement with a stone keep initially, then it was remodeled and surrounded by curtain walls and a moat.
Along with several towers and a gatehouse, this wall fortified an area of about 3 acres. Most of the castle we see today was completed by 1220.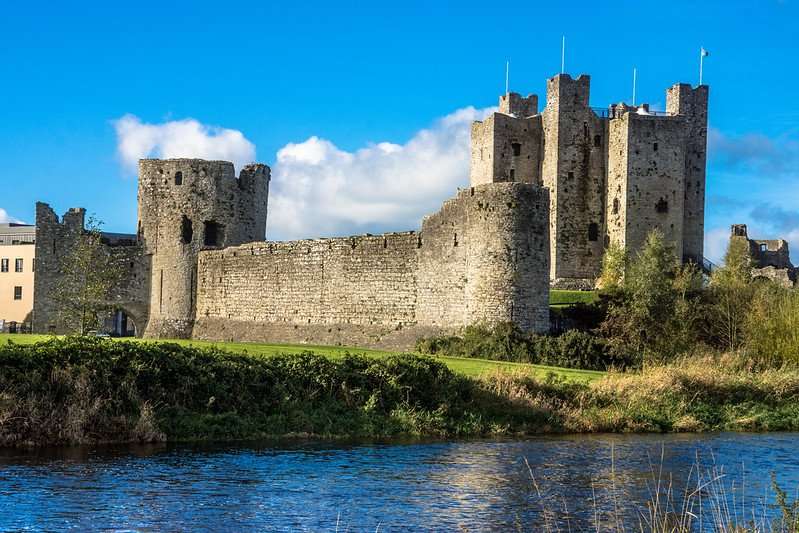 From the de Lacy family Trim Castle changed ownerships starting with Geoffrey de Geneville, an important French knight and crusader who built the great hall beside the keep and founded the Dominican Blackfriars in the north of the tow.
From the de Geneville family it passed to the Mortimers, then to the Duke of York until the War of the Roses, when it finally became royal property.
An interesting feature of Trim Castle is its unique twenty-sided cruciform keep, with walls 3m thick, which is an example of the experimental military architecture of the period and also served as both the domestic and administrative center of the castle.
The buildings may have changed over the centuries to suit the needs of its previous owners but much of its fabric was unchanged since the height of Anglo-Norman power in Ireland.
Even today when visitors stand within the walls of the castle, they can get the sense of security that was probably felt by the de Lacy family in a hostile landscape.
At the same time, standing outside the walls you can sense the intimidation that must have been felt by the people then.
It sure does feel like being back in the old ages, and apart from its connection to a popular film, Trim Castle is one of the more interesting places to visit in Ireland because of its rich history.
How to get to Trim Castle from Dublin
Trim Castle is a popular day trip from Dublin. If you are coming from Dublin, you can take Bus Éireann (#111, #109B) to Trim Castle from Busaras Station. The trip takes more than one hour for €10 – €14 one way.
From the bus stop at Trim, you just need to walk a bit to get to the entrance of the castle. You can also take a taxi for €65- €80 one way. It is also faster by 15 minutes than taking a bus.
How to get to Trim Castle from Drogheda
If you are coming from Drogheda, you can take Bus Éireann (#190) to Trim Castle. The trip takes a little more than one hour for €9- €11 one way.
From the bus stop at Trim, you just need to walk a bit to get to the entrance of the castle. You can also take a taxi for €55- €70 one way.
Opening Hours
Opening hours vary depending on the season.
January (Sat & Sun) -09.00 – 16.00
1st – 10th February (Sat & Sun) – 09.30 – 16.30
11th February – 16th March (Daily) -09.30 – 16.30
17th March – 30th September (Daily) – 10.00 – 17.00
October (Daily) – 09.30 – 16.30
November & December (Sat & Sun) – 09.00 – 16.00
Admission Fee
€5 per adult, €3 for students, and €13 for a family of 4. It includes access to the Trim Castle grounds and an audio-visual show at the visitor center. You can get a ticket from the visitor center.
Contact Information
Location: Trim, Co Meath
Phone: +353 46 943 8619
Email: trimcastle@opw.ie
Trim Castle Tours from Dublin
If you don't have a car and don't want to take public transport, joining a group tour is also a good alternative. Below are some of the best tours to Trim Castle from Dublin.
The best thing about these tours is that it is normally cheaper and you can also visit several locations in one day.
Hi, I'm Christine – a full-time traveler and career woman. Although I'm from the Philippines, my location independent career took me to over 40 countries for the past 8 years. I also lived in 3 continents – from the Caribbean, South East Asia to Africa. But despite living in several countries, my love for Ireland remains the same. A country that had been a part of my life since I was 14 because of my love for Irish music and bands. Ireland Travel Guides was born because of this passion and hopefully, in some little ways, this website will be able to help you on your next trip to Ireland.