July in Ireland is the middle of summer, a peak tourist season as most of the country's best sights are enjoyed more under sunny skies and longer daylight hours.
If you're going in July and you want to enjoy the sights despite the crowds, it's best to plan ahead and know what to expect to make the most of your trip. Here's a quick guide to visiting Ireland in July to help make your visit more memorable.
What is the weather like in Ireland in July?
Temperature in Ireland in July
The temperature in July averages between 12 to 20 °C.
Rain in Ireland in July
There's an average of 55 mm rain over 11 days in July.
Wind in Ireland in July
7 to 12 miles per hour
Sun in Ireland in July
5 to 6 hours of actual sunshine but long daylight hours (16 to 18 hours)
What should I pack for Ireland in July
July tends to be a little bit warmer than June since it is the middle of Summer season in Ireland. With this, you can skip the layering and wear thinner clothes.
Ireland Travel Guides contains affiliate links all throughout the site. If you choose to purchase a product or book services through our affiliate links, this earns us a commission at no extra cost to you. For our complete disclosure, click here
Flannel shirt – a flannel shirt is not too thick and not too thin so you can make this as one of your items when traveling to Ireland in July. You can also mix and match this shirt with a lightweight spaghetti top underneath and wear it as a coverup for a more casual look like this one.
Sneakers – You can do a lot of walking activities in Ireland during the summer where the weather is nice compared to other months. So to be comfortable wherever you go, be sure to pack a pair of sneakers with you.
Jeans – You can never go wrong with a nice pair of jeans like this high-rise skinny jeans which looks good with a flannel shirt.
Sandals – You can wear an open-foot sandal or opt for a close-shoe.
Where you should stay in Ireland in July
Although there are a lot of accommodations in Ireland that will fit any traveler's budget, nothing beats the experience of staying in castle hotels in Ireland. So here are some of the affordable castle hotels that you can stay in Ireland for the month of July.
Cabra Castle Hotel still has the 18th-century castle vibes but with the modern touch from its amenities. A 4-star castle hotel in Cavan situated in a quiet neighborhood in Kingscourt, Cabra Castle Hotel is a mix and match of royalty and modern luxury. Rates start at $162. To book, click here.
A Gothic castle dated from 1209, Kinnitty Castle Hotel is located at the foot of Slieve Bloom Mountains. If you want the unique experience that comes with this castle, better check it out before it's too late. Also, the rates start at only $110 a night. To book, click here.
Things to do in Ireland in July
1. Giant's Causeway in Northern Ireland
Comprised of about 40,000 basalt columns caused by intense volcanic and geological activities from ages ago, the Giant's Causeway is one of the best places to visit in Ireland during summer.
Situated on the northeast coast of Northern Ireland, this place looks like huge stepping stones. The views from the massive cliffs are spectacular.
This UNESCO World Heritage Site is also part of the Wild Atlantic Way, which was often called to be among the most beautiful places on earth. Like everything else in Ireland, this magnificent Northern Ireland gem doesn't disappoint.
Book your trip online here.
2. Explore County Antrim
The otherworldly Giant's Causeway in Northern Ireland is part of County Antrim and while you're there, you have to see more of what this area has to offer.
It's just packed with so many amazing sights that a day of exploring won't be enough. If you're u for some thrill that takes you from the mainland to an island over the Atlantic, try the Carrock-a-Rede Rope Bridge.
Sample some of the best Irish whiskey at the Old Bushmills Distillery, and if you're with kids or simply a kid-at-heart, check put Barry's Amusement in the picturesque town of Portrush which is also a great place to stay while exploring Antrim. To end your day, hike up the Dunluce Castle and watch the sunset. All of these locations are good day trips from Belfast if you are staying in the city.
3. Galway International Arts Festival‬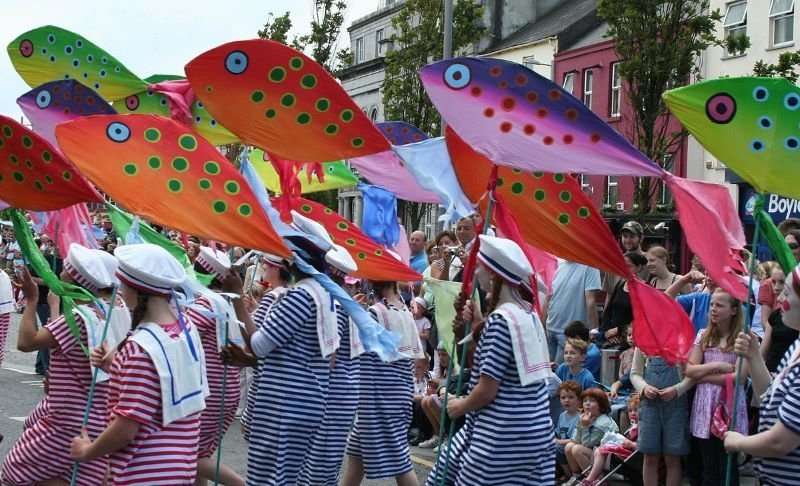 ‪If you're already in the Wild Atlantic Way area and want to experience an Irish festival, head on to Galway for its international art fest that happens every July.
The festival showcases some of Ireland's best in the field of visual arts with displays, exhibitions, and installations as well as in comedy, dance, opera and theatre. There are discussions and performances, and even guest artists from other countries. This is one cultural event in Ireland that you shouldn't miss.
4. Blarney Castle
Ireland boasts of thousands of castles that you simply have to visit one of them to complete your itinerary. One of the popular ones is the medieval Blarney Castle, a former stronghold just outside the city of Cork.
It's a pretty interesting place to explore and the surrounding gardens are beautiful but there are lots of people who go here to kiss the Blarney Stone, located at the top of the Castle. A strange practice but the place is one of the best things to see in Ireland in July so make sure to pay a visit.
Buy your ticket online here.
5. The Lovely Port Town of Cobh
The picture-perfect small town of Cobh has become a favorite among tourists over the recent years because of its strategic location and the many attractions you can visit. Cobh also has the only dedicated cruise terminal in Ireland and was also the RMS Titanic's final port of call before its maiden voyage in the early 1900s.
Formerly named Queenstown, is built on a steep hill and packed with sights that you can see within hours such as the Cathedral Church of St. Colman, the fascinating Deck of Cards row of colorful houses, the Cobh Heritage Center, the Wildlife Park and the Fortress Spike on Spike Island.
6. Cliffs of Moher
Hands down one of the best attractions in Ireland, the dramatic Cliffs of Moher is something that should be on top of your places to visit. A trip to Ireland simply won't be complete without gazing upon the Atlantic while standing on these natural wonders.
This UNESCO World Heritage Site is located in County Clare's west coast, spans 14 kilometers and the highest point is 700 feet above the ocean. Even the drive to these spectacular cliffs is just as stunning, as you pass through quaint Irish villages, with some of them dating back to the medieval era.
Be sure to prepare for Ireland's typical fickle weather when you visit by wearing warmer or layered clothing as well as comfortable yet sturdy shoes.
Buy your ticket online here.
7. Drive the Wild Atlantic Way
Another must when in Ireland is a drive through what's often called as among the most beautiful places on earth — the Wild Atlantic Way. This scenic route stretches to 500 kilometers and passes through three provinces and nine counties in Ireland.
The drive, for the convenience of those taking it and to allow them to plan their trip, is divided into County Donegal, County Donegal to County Mayo, County Mayo to County Clare, County Clare to County Kerry, and finally County Kerry to County Cork.
This may take days to fully explore more than a thousand attractions so you can just pick one or two of the routes previously mentioned. It is one of the best things to do in Ireland on weekends and some of the places you must visit along this spectacular route are the Dingle Peninsula, the Ring of Kerry, The Birrem, Mizen Head and Clifden.
8. Explore Naas
Naas is a charming town 35 kilometers away from Dublin. A county town in Kildare county, it is a popular weekend getaway and a day trip for city dwellers.
With all the golf courses, racehorse tracks, and gardens, there are surely many things to do in Naas to keep people entertained.
9. Take a scenic road trip in Dingle
The 46-km Slea Head Drive from Dingle in Ireland is one of the best and most spectacular driving routes in Ireland. It's part of the Wild Atlantic Way route which is considered one of the most scenic road trip routes in the world.
The route consists of breathtaking views of the coastline, offshore islands, and cliff-top roads and it's best to access through driving on your own.
It is one of the most popular activities in Dingle.
10. Visit Shannon
Located in Western Ireland, Shannon is a small town located near the Shannon Estuary. It is also a good entry and exit point to Ireland because of Shannon Airport, the third busiest airport in Ireland after Dublin Airport and Cork Airport.
A lot of travelers in Ireland tend to overlook Shannon in favor of other major cities in Ireland such as Galway, Limerick, Dublin, and Cork.
But there are several things to do in Shannon more than people think. It is also a good base for several popular things to do in Ireland.
Tours you should do in Ireland in July
Practical Tips for Ireland in July
1. If your itinerary takes you through different counties or regions, don't do too many things at once. Focus on a certain region in one day or two, set out early and go slow to fully appreciate the place.
2. Even during summer, Ireland's weather can be unpredictable. There's always a chance of rain or wind, so it's best to bring warmer clothes or those that you can layer. Check this Ireland packing list for all seasons to guide you on what to bring in Ireland.
3. There's a lot to see in Ireland and it's spread across different counties and regions with varying landscapes. A great way to fully explore each site and to travel at your own pace is to rent a car and drive. It's a great way to manage your trip and see more of Ireland.
Where to Book: Rentalcars.
4. Swim caps are required if you're going to use either a public pool or a hotel pool in Ireland. You simply won't be allowed in the water unless you wear one so be sure to pack a swim cap just in case.
5. Check out this list for more travel tips for Ireland for first-time visitors.
Travel Tips And Resources
Travel Insurance: I never leave home without travel insurance. My personal opinion is if you can afford to travel, you can afford to buy a travel insurance. All things can happen while on the road and you can never be too sure. And it's something that you'll be glad to have when you need it. For my preferred travel insurance, I use Safety Wing.
What To Wear: If you want some ideas on what to pack for Ireland, check out this packing list guide for Ireland.
Where To Stay: I personally use Booking.com for all my accommodations. Check out for their latest deals here.
Reading Resources: Check out our best reading resources here.
Hi, I'm Christine – a full-time traveler and career woman. Although I'm from the Philippines, my location independent career took me to over 40 countries for the past 8 years. I also lived in 3 continents – from the Caribbean, South East Asia to Africa. But despite living in several countries, my love for Ireland remains the same. A country that had been a part of my life since I was 14 because of my love for Irish music and bands. Ireland Travel Guides was born because of this passion and hopefully, in some little ways, this website will be able to help you on your next trip to Ireland.