Dunguaire Castle is one of the must-see stops for those doing the Wild Atlantic Way route.
Situated on the shores of Galway Bay, Dunguaire Castle is regarded as one of the most beautiful fortresses in Ireland.
Dunguaire Castle houses a museum, and hosts themed dinners which are a must-experience in this part of Ireland.
Apart from being one of the best attractions in the western part of the emerald isle, Dunguiare Castle has a fascinating history that goes back to the medieval era.
The pretty stone tower house is also known to have inspired some of Ireland's greatest writers.
Dunguaire Castle History And All The Things You Need To Know
Ireland Travel Guides contains affiliate links all throughout the site. If you choose to purchase a product or book services through our affiliate links, this earns us a commission at no extra cost to you. For our complete disclosure, click here
Dunguaire Castle History
Located just outside the northern part of Kinvara village in western Ireland, Dunguaire Castle was one of the many fortifications built in the region.
The castle was among the strongholds erected by Guaire's descendants – the Lords of Aidhne, O'Heyne, or Hynes, chieftains in 1520.
For centuries since it was built, Dunguaire changed ownership and went through repairs and renovations. Hugh O'Heyne took residence of the castle around 1588.
When resistance to English conquest became too great to continue, Hugh yielded his land on a grant/regrant basis to Queen Elizabeth. This kind of practice for lands that were taken over was quite common during that time.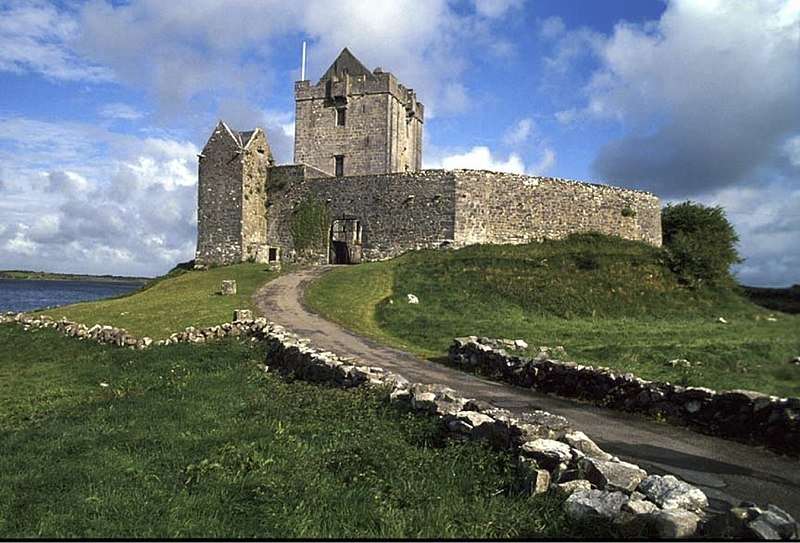 Dunguaire castle remained in this ownership until it was relinquished to the Martyns of Galway. The family-owned it until 1934, when it was purchased by the famous literary figure Oliver St. John Gogarty.
He did repairs and restorations in the old castle, which eventually became a popular venue for literary luminaries.
That time, there was a significant Celtic resurgence in Irish literature, and Dunguaire Castle became hosted meetings for the likes of O'Casey, Shaw, Synge, and Yates, who are known, literary revivalists.
Restoration work on the castle was continued and completed by Christobel Lady Amptil, who purchased the castle in 1954.
At present, the castle is being taken care of by Shannon Development who makes sure that its interiors and activities offered to guest still depicts what life was like when it was built hundreds of years ago.
What to do and see at Dunguaire Castle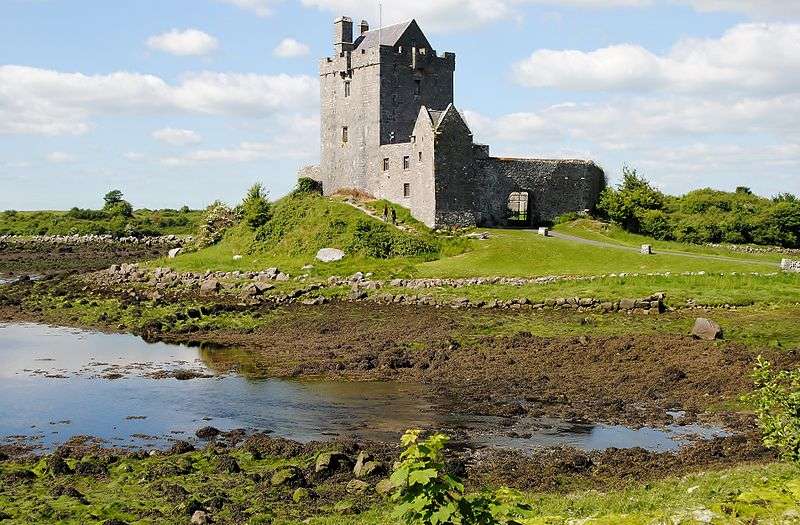 Today, Dunguaire Castle is among the most photographed castles in Ireland. A lovely place to visit any time of the year, the sight of the castle set against Galway Bay is worth the stop before continuing your way through the rest of the Wild Atlantic route.
The charming tower perched on the rolling hills, with the shimmering waters of the Atlantic as the backdrop, is a sight you won't easily forget.
As you make your way up the castle, be sure to stop every few steps to appreciate the surrounding scenery.
Dunguaire Castle houses a museum that features drawings and exhibits that shows what life was like at Dunguaire during the past centuries.
This is located in the tower that visitors can climb as they learn more about Dunguaire Castle's history. This area in the castle can only be accessed from April to mid-September between 10 a.m. and 4 p.m.
More than its surrounding views and the museum, Dunguaire Castle is a popular evening destination in this part of Ireland. This is because the castle regularly hosts a medieval dinner banquet within its fortified walls.
Apart from the food which is typical Irish fare served by candlelight, there are also performers that provide entertainment. There are storytelling sessions, songs, and poetry reading.
The poems featured are those written by the literary greats who once also converged inside Dunguaire Castle back in the day.
Like most historic sites in Ireland, Dunguaire Castle is steeped in some local folklore and legend.
One of these is that when you visit the castle and stand at its gate, go and ask a question. Popular legend says that any question asked by the gate of Dunguaire will be answered by the end of the day.
Check out these available tours for Dunguaire Castle
Visitors Information
Opening Hours
Monday to Friday – 10:00 AM to 4:30 PM
Admission Fee
€6/adult
€3.50/seniors/students
€3/children
€17.50/family (2 adults + up to 6 children)
Contact Information
Phone: +353 61 360788
Address: Kinvara Galway, Republic of Ireland
Email: reservations@shannonheritage.com
---
New to Airbnb? Get a $43 off for your next trip if you use our link here.
---
Hi, I'm Christine – a full-time traveler and career woman. Although I'm from the Philippines, my location independent career took me to over 40 countries for the past 8 years. I also lived in 3 continents – from the Caribbean, South East Asia to Africa. But despite living in several countries, my love for Ireland remains the same. A country that had been a part of my life since I was 14 because of my love for Irish music and bands. Ireland Travel Guides was born because of this passion and hopefully, in some little ways, this website will be able to help you on your next trip to Ireland.