Ireland is an island in itself but there are around eighty islands that make up the entire country. Out of the islands in Ireland, only around twenty are inhabited.
So if you are looking for the best places in Ireland to hide, these beautiful Irish islands are your best bet in finding peace and quiet.
Best Islands In Ireland To Visit
From UNESCO heritage sites to beautiful beaches, the islands in Ireland is not to be missed. You can also enjoy monolithic sites, hiking trails, historic sites, rugged cliffs, and beautiful bays to explore.
So without further adieu, we listed our favorite islands in Ireland to help you decide which ones to visit.
Skellig Michael, County Kerry
Ireland Travel Guides contains affiliate links all throughout the site. If you choose to purchase a product or book services through our affiliate links, this earns us a commission at no extra cost to you. For our complete disclosure, click here
Standing in the Atlantic Ocean at about 12 kilometers southwest of Valentia Island, County Kerry are the stunning Skellig Islands – Skellig Michael and Small Skellig.
The islands are both world-famous, but Skellig Michael is more known throughout the world of archaeology as the site of a well-preserved monastic outpost of the Early Christian period.
The earliest reference in history to the Skellig Islands dates back to 1400 BC. Between the 6th and 8th centuries, a Christian monastery was founded on the island and was continuously occupied until its abandonment in the late 12th century.
The remains of this monastery, along with most of the island itself, became part of the UNESCO World Heritage Site list in 1996.
A jagged, difficult-to-access island off the Kerry shoreline, Skellig Michael towers at 714 feet (218 meters) above sea level.
It's rather a steep climb up, but the sight of the remarkably well-preserved sixth-century monastic settlement and the magnificent views of the nearby islands and the Atlantic are well worth it and makes for one of the best things to do in Ireland.
These days, Skellig Michael isn't just known as a UNESCO World Heritage Site, but also for its role in two recent Star Wars movies.
Great Blasket Island, County Kerry
The Great Blasket Island is the largest among the Blasket Islands, which are the westernmost islands off the coast of Ireland.
This island measures roughly 3 kilometers by 1 kilometer (2 miles by ½ mile) and is predominantly rocky. It is also the westernmost point of Europe and has a long, fascinating history.
Even with its size and remote location, the Great Blasket Island has attracted visitors over the years.
The rustic surroundings and the calm atmosphere attracts tourists who wanted a quick, memorable getaway. Its incredible, unspoiled landscape is the walker's paradise.
This stunning island is an easy ferry ride from the Dingle Marina.
If you're up for a unique day tour, there are several fun things to do in Great Blasket Island when you visit.
Arranmore Island, County Donegal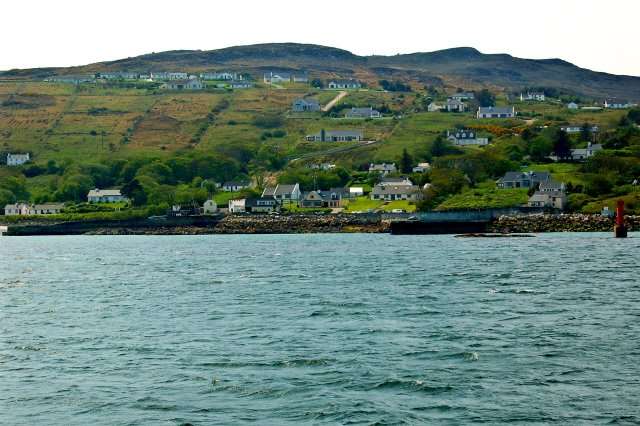 Arranmore Island or Árainn Mhór in Irish is located a few miles off Donegal. It is often regarded as one of the more underrated destinations in the Wild Atlantic Way.
Wild and untamed, Arranmore is one of the few places in Ireland where the main language is native Irish. A visit here guarantees fun, adventure, and a taste of real island life.
From cliff walks to deep-sea diving, there are several things to do in Arranmore Island that you shouldn't miss when you visit.
Tory Island, County Donegal
Located off the north coast of County Donegal, Tory is a tiny island at just about four and a half kilometers long and a little over one kilometer wide.
Known for its rugged landscapes and as a stronghold of Irish traditions, Tory Island is one of the most unique places to visit in the Atlantic.
The name of the island is said to have originated from the Irish word for rock (tor) or from the Irish word for robber (torai).
Rock refers to the cliffs and rocks that make up most of the island. Meanwhile, 'robber' is said to refer to the first occupants of the island – a band of pirates called Fomorians.
Tory island is comprised of granite cliffs on the north side, which turns gradually into the pink quartz high rocks on the far northeast of the island. The highest among these cliffs is Tor Mor, at about 115 feet high.
Things to do in Tory Island includes meeting the King – the only King in Ireland, the Tau Cross, and if you come at the right time, the island is also one the best spots in Ireland to watch the Northern Lights.
Aran Islands, County Galway
Aran Islands are a group of three rocky islands located in Galway Bay.
The islands include Inishmore (Inis Mór – the largest island), Inishmaan (Inis Meáin – the second largest), and Inisheer (Inis Oírr – the smallest).
On the islands, you can explore ancient stone forts and churches, awesome cliffs, and flora and fauna.
The islands are considered the soul of Gaelic culture and it's considered one of the top island destinations by National Geographic.
Dursey Island, County Cork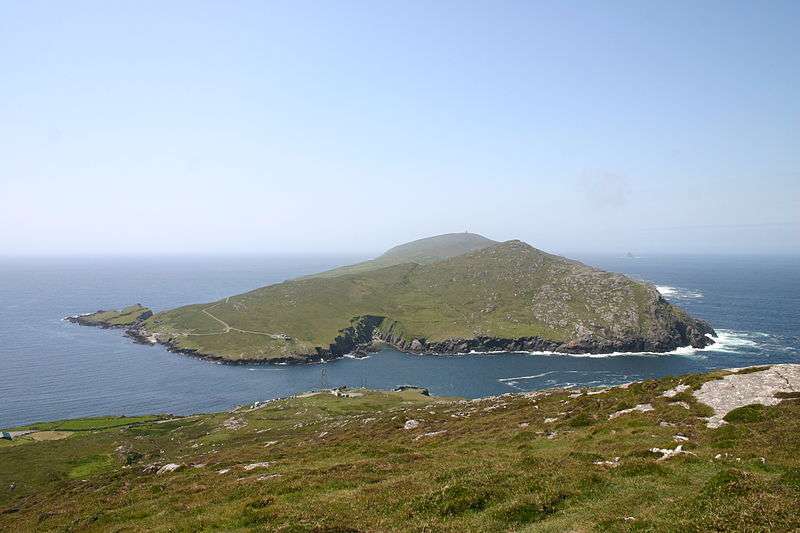 Located at the end of the Beara Peninsula in West Cork, Dursey Island is one of those who must experience detours for those tackling the Wild Atlantic Way route.
It is remote and there are no facilities to cater to visitors, but it remains to be one of the most exciting destinations in the south of Ireland.
The island has quite a turbulent history.
Aside from not being soared from war and conflict as well as the Great Famine, Dursey Island has also witnessed one of the most horrific events in the history of Ireland.
The island was the site of a massacre that took place in the early 1600s, perpetrated by English forces to 'clean' the island.
Close to the cable car stop is the now neglected church and graveyard, where their bodies were buried. The area is quite desolate but nonetheless an interesting place to see as you explore Dursey Island.
Dursey Island is only 6.5 kilometers from the mainland and can be reached by boat or cable car – the only one of its kind in Ireland. It was established in 1969 and has since been one of the island's main attractions.
The cable car journeys across the fast currents of Dursey Sound, which becomes treacherous with storms and a tidal surge.
Whether you're making Dursey a part of your Wild Atlantic Way journey or as part of your visit to the south of Ireland, you're in for a happy surprise as there are interesting things to see here.
Achill Island, County Mayo

There are fun things to do in Achill Island. It was first inhabited 5,000 years ago and is now the largest among all islands off the coast of Ireland.
Connected to the mainland by a bridge, Achill makes for an easy day trip of you're in County Mayo.
The island is known for its spectacular views and its two popular beaches, Keem Bay and Keel Beach.
Keem Bay is a small cove sheltered by mountains, a relaxing area with stunning views that's perfect for hanging out. Keel Beach meanwhile, is a haven for surfers as well as for its scenic beach walk.
Achill Island has something for everyone, with its majestic mountains, diverse landscapes, and stretches of stunning Blue Flag beaches. This place is best for those who love scenic nature walks as well as fun watersports.
Around the island, visitors will also see remnants of Achill's storied past – from ancient forts, deserted villages, historic churches, and megalithic tombs.
Valentia Island, County Kerry
Valentia Island is located off the Iveragh Peninsula in southwestern Kerry. It has a population of over 600 people spread in its two small villages – Knightstown and Chapel town. Despite being small, there are several things to do on Valentia Island.
Technically, Valentia is no longer an island because it is connected to the mainland by the Maurice O'Neill Memorial Bridge at Portmagee since 1971.
It is situated on the Skellig Coast in the Southern Peninsulas of the Wild Atlantic Way. It is adjacent to the Ring of Kerry and known for its highest peak, the Geokaun Mountain.
Valentia Island, despite being easily accessible is still not that touristy and crowded during peak season, and is said to have one of the best sunset views in Ireland.
Roads here are quite narrow, so visitors are encouraged to explore Valentia on foot to really enjoy the unique scenery. The island vibe is relaxed and peaceful, with friendly locals and sights that are still unspoiled.
Valentia's long history is evident in the various structures and natural wonders you'll see as you explore, from tetrapod tracks to an old lighthouse.
Bull Rock Island, County Cork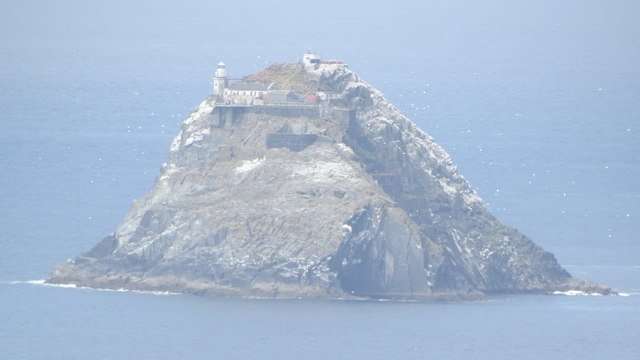 Bull Rock Island is located about 4 kilometers away from Dursey Island and 9 kilometers from the mainland of County Cork.
The rock is 93 meters high and is actually a small island. It has stunning jagged cliffs, a tunnel where boats can pass and a lighthouse.
It is regarded as one of Island's best remote attractions and a great stop if you're doing the Wild Atlantic Way road trip.
The Bull Rock Island is situated on a sea transit at the tip of the Beara Peninsula and the entrance to Kenmare River. It is a few kilometers away from the more popular Dursey Island. The Rock is also the most Southwesterly point from the Beara Peninsula.
This island rock looks straight put of a fantasy film set, with its green sandstone and purple siltstones surface that was formed more than three hundred million years ago
The Bull Rock is a bit older than the Cow Rock, the old red sandstone that you'll see on the way. This intriguing rock island, like most natural destinations in Ireland, is steeped in folklore.
Legend has it that the tunnel-like passage of Bull Rock is the 'Gateway to the Underworld'.
Comprised of dramatic, rocky cliffs, Bull Rock looks quite mysterious. Apart from the lighthouse, there are stone structures built on the cliffs. These buildings are proof that people lived here for a time.
Spike Island, County Cork
Spike Island is just a short ride from the picturesque little fishing village of Cobh in County Cork. A historic area that encompasses 103 acres, the island has been a monastic settlement, as well as a prison. These are just among the best things to do in Spike Island, Ireland.
Spike Island's history goes back to over a thousand years, as it served purposes that have nothing in common except the location.
As a monastic settlement, Spike Island was home to a 6th-century Monastery.
Then, a 24-acre fortress was built during the Victorian area which housed a prison which the island is now known for. This fortress is the world's largest convict depot, a star-shaped building that's also known as 'Fort Mitchel'.
Over the years, Spike Island has become one of the best attractions in County Cork. It is often referred to by tourists as the "Alcatraz of Ireland', in reference to the island in San Francisco, California.
It has not been that open to the public for a long time, yet the island already received awards such as Europe's leading tourist attraction 2017 at the World Travel Awards and it's considered one of the best islands in Ireland.
---
New to Airbnb? Get a $43 off for your next trip if you use our link here.
---
Hi, I'm Christine – a full-time traveler and career woman. Although I'm from the Philippines, my location independent career took me to over 40 countries for the past 8 years. I also lived in 3 continents – from the Caribbean, South East Asia to Africa. But despite living in several countries, my love for Ireland remains the same. A country that had been a part of my life since I was 14 because of my love for Irish music and bands. Ireland Travel Guides was born because of this passion and hopefully, in some little ways, this website will be able to help you on your next trip to Ireland.